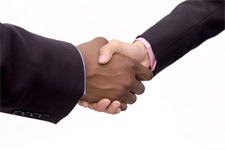 This is a guest post by Roko Nastic, a webmaster and blogger who writes for Webmaster Format, a webmaster info website.
Before television, before radio, and before the internet, marketers used one form of communication to move products, offer services, and acquire customers: content. It formed the basis of every sales effort, the foundations of marketing for just about every business, and the backbone of almost every early company's revenue stream. Without content, there wasn't business to speak of.
Today, there are hundreds of ways to move products and push services. From pay-per-click online advertising to interactive mobile applications, the amount of space awaiting advertising or marketing in some form is truly staggering. But the oldest form of marketing out there – content marketing – still survives, largely because it is too effective for marketers to resign.
If you are having trouble getting the oldest, most reliable marketing method to stick, do not give up just yet. These three tips are designed to help you boost returns and increase sales without having to write more content or completely change your marketing plan. Whether you are a beginner marketer or a seasoned professional, apply these three tips, tactics, and strategies and you will see your conversion rates rise and customer acquisition costs bottom out.
Write with a purpose.
If there is a single clear sign of amateur writing – a smoke signal of poor content – it is a lack of purpose. Text that dawdles, diverts, and ultimately fails to deliver on any real goal is the opposite of any marketer's goal. Commercial writing requires focus, and without it can negatively impact your sales.
Start your writing not with a sentence or a headline, but with a plan. By creating a structure for your content before you start, you will end up delivering more than just words to your audience – you will deliver a reason for them to invest in your product, service, or special offer.
Treat content as a part of the sales process, not the process itself.
There is a slight misunderstanding in the professional content marketing world. Amateur marketers fall into the trap of thinking that content itself is the sales process, rather than a mere part of it. Pages are written with no purpose other than to convert instantly, and thousands of sales are lost in the process.
Treat your writing as a part of the sales process – the first part. Draw attention and briefly explain what you can offer to customers. Content is not the entirety of your sales pitch, merely an interesting opening line – a method of bringing customers in the door, up to the counter, and ready to pull out their checkbook.
Don't exclude, offend, or divide your audience.
That "dear friend" at the beginning of your sales content is not doing you any good if it is alienating your audience and making you look indifferent to peoples' personal situations. Effective content marketers do not just skip out on judging their audience – they skip out on connecting with them negatively altogether. Aim to connect with your audience through your content, and eliminate any elements of your writing that could possibly offend, exclude, or divide your potential customer base.