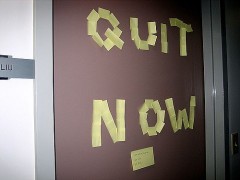 Aging isn't easy. But you already knew that. You feel it in your knees when you wake up. You're cursed with it when you are forced to differentiate between a pimple and a tumor. And it follows you around every time you catch a glimpse of yourself in the mirror. This is not news to me. What IS news to me, is how ridiculously apparent my advanced age became to me last week when my 15-year-old nephew clocked a "faster" fast ball on the radar gun at a local carnival. Something about underperforming a person half my age – a kid who sat on my lap as a lad – has really left a mark. To fight it would be foolish. I could start working out and practicing on a daily basis. I might be able to add a few miles per hour to my pitch when we return next year, but the final result is inevitable; when it comes to physicality, youth wins, every time.
My point here is that you need to know when it's time to give up the ghost. Sometimes there is a right time to accept defeat.
Perhaps your blog has failed.
I won't define failure for you since only you can control what you feel is successful. But in my opinion, it's time to let go of a blog if you are suffering from an evil trifecta known as "The 3 lacks."
Lack of interest
Lack of time
Lack of traffic
I love blogging. It's fair to say we're hot and heavy. But there have been other things in my life (and in yours) that you have loved and eventually let go.
The old adage that quitters never win is bullsh*t. Stick with anything too long, let it be an investment, a job, or a spouse, and it will likely backfire in your face. You need to know when to fold 'em as the song goes.
For those of you who own a used car, you know what a tough call it is to stop pouring money into the wreck and start over.
If you are thinking of throwing in the towel on your blog, look for these signs that your blog is on life support:
Infrequent posts.
Loss of unique voice.
Reliance on guest posts.
You stop examining traffic and keywords.
Copy and pasting press releases.
Sometimes a blog just need a to be remodeled, other times, it needs to be demolished. I hope you stick with your blog and make it a vehicle to your dreams. But if you do quit your blog, I salute you…as long as you find a positive way to use your time.
I might never throw a fast ball like my nephew, but my blog kicks his blog's as*! I'll take a victory wherever I can get it!
After working for FOX News and MTV Networks, Andrew G. Rosen founded Jobacle.com, a career advice and employment news blog. He is also the author of The Exit Guide: How to Leave a Job the Right Way.