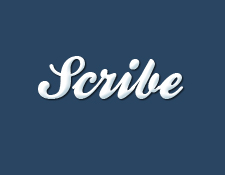 Blogging has a million moving parts. As if coming up with interesting story angles and writing compelling content weren't enough, bloggers are also forced to be designers, marketers, public relations pros, metric analysts and more. That's a lot of hats.
The one item that often gets lost in the shuffle is SEO. Many bloggers add in a few strong keywords and move on to the next post. Guilty as charged. That's why when I came across ScribeSEO, an automated writing assistant service designed to help you flag down search engine love, I was intrigued. When I read that Brian Clark of CopyBlogger fame was behind it, I was sold.
It's too early to report any results, (Have you tried Scribe? Tell us below.) but the one thing I really, really like about ScribeSEO is that it gives me confidence that I am doing everything I can to get my posts in front of as many eye balls as possible. It also forces me to re-evaluate my work before posting – an essential component of successful blogging.
The search engine optimization software has plug-ins available for WordPress, Drupal and Joomla, though I have been relying on the Web-based version that can be utilized, irrespective of your blogging platform.
After inputting your post the software will analyze it, generating a score (0 – 100%) on how your post meets standard SEO recommendations. Word count, readability, keyword density, hyperlink count and other factors are examined, all factoring into your score.
After the analysis is complete (it takes mere seconds), an SEO summary is displayed. This can be accessed any time from your dashboard as a Word doc download. The number of analysis queries you can submit depends on the package you choose ($17 – $97 a month).
What I like about the product is that it puts several valuable tools under roof. Can you achieve much of this for free with some legwork? Absolutely. But personally, I never mind paying for a service or a reminder that makes me better at what I do – and makes it easy to get there. Of course there are two sides to every story, and Scribe SEO has its detractors. However, I am from the camp that believes the service is a blessing for bloggers who are technologically-challenged or do not have the time or interest to engage in SEO. What do you think?
After working for FOX News and MTV Networks, Andrew G. Rosen founded Jobacle.com, a career advice and employment news blog. He is also the author of The Exit Guide: How to Leave a Job the Right Way.