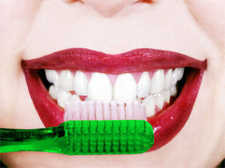 Bloggers are so engrossed in their blogs that an emotional attachment often occurs, making the blog part of a person's identity. Maintaining a blog for bloggers is similar to maintaining dental hygiene in more than one way. The idea might sound far-fetched, but being a dentist and a blogger, I can't help but notice how the two are interrelated. Let's take a look…
1) You have to do it: There is no escaping from it. You wake up and it has to be the first thing you do. Under rare circumstances, if you don't do it and venture out, it plays on your mind and you try to find a way to do it. Brushing your teeth becomes a part of our daily routine – just like blogging.
2) People compliment you for it: Taking good dental hygiene measures would ensure you a pearly-white smile which invites admiration from your acquaintances. Similarly, having a good blog garners admiration from those who visit it if it's maintained well.
3) Maintenance costs: Both of them bear a burden on your pocket although you don't mind it. Dental hygiene would require shelling out for toothpaste, toothbrush, dental floss, mouth wash, teeth whitening products, dentist appointments where as blogging expenses could cost you in what you spend for domain, host, paid listings, ads and SEO.
4) Embarrassing when people complain: Someone at work told you your breath stinks which would be really embarrassing. You would similarly take it on a personal level if some one mentioned how much your blog sucks.

5) It is a complex process: It might sound simple but there is a lot of work being put in to it. If dental hygiene demands brushing, flossing, mouthwashes, scaling; a blog demands constant articles, updates, marketing, link-building efforts.
6) Nightmare if others hack it: It would be a nightmare if someone else uses your toothbrush and it would be a nightmare if someone manages to hack your blog.

7) Spam: Spam comments which clutter your admin panel are like food debris stuck in between your teeth. Can't let them stay and have to ensure their removal.
8) Regularly updates required: Regular brushing ensures your mouth doesn't smell while regular updates prevent your blog from looking stale.

9) Check up' required: You have to visit a dentist to take care of any dental conditions and check up. A SEO consultant is required to analyze your blog and suggest changes for better results.
10) You like looking at it and admiring: You tend to smile in the mirror and feel great about your smile. Looking at your blog in admiration regularly forms a part of your schedule.