In Lesson 1 of the Blog Marketing How-To Guide, you learned what marketing is and why it should matter to you as a blogger.  Lesson 2 teaches you how to get started with building an online presence and developing a brand that can benefit you in the long-term and help you reach your blogging goals.
One of the most important common features among powerful brands is their focus on creating branded experiences that surround consumers with opportunities to self-select how they want to experience that brand.  You can do that with your own brand online thanks to the many tools of the social web.  The trick is creating a core branded destination to act as the central hub for all of your activities.  In other words, your goal in all of your social media activities should always be to gently nudge your audience back to your central hub.  Think of it this way:
All roads lead back to your core branded destination.
I talk about this extensively in my upcoming book, 30-Minute Social Media Marketing.  In fact, the graphic shown below is taken from that book and gives you an idea of how a business (and if you're using your blog to either make money or grow your company or career, then that blog is a business venture) could set up its own core branded destination in the form of a blog with all other branded destinations leading back to that central hub.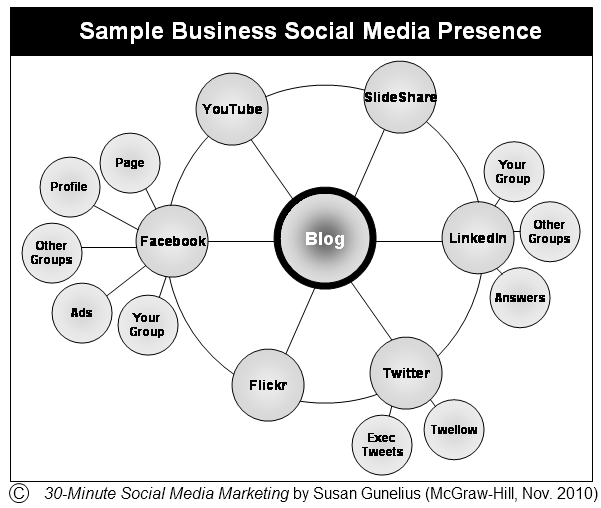 While your conversations and content across the social web might vary (and it should in order to effectively communicate with different segments of your audience who are likely to want to hear very different messages from you), your audience should be able to easily find your core branded destination where they can discover all of the additional information about you that they might want.
In other words, don't re-tell your story everywhere and anywhere.  Instead, tell a snippet through your content and conversations on other sites (including your own secondary branded destinations), but always make it easy for the audience to travel over to your core branded destination.  This allows you not only to build more meaningful relationships with audience members, but it also allows you to have more control over conversations.
Building relationships with your audience is essential to blogging success.  Relationship brands are the most powerful brands in the world, because when people feel connected to a brand emotionally, they will vocally advocate it and defend it, which gives you an amazing amount of word-of-mouth marketing for your brand, blog and other branded destinations.
In other words, an integrated marketing and branding strategy is critical if you want to grow over the long-term.  Don't allow your audience to get confused.  Instead, allow them to create expectations for you and your brand through consistent communications and an easy path to your core branded destination where the party can really get started!
Keep in mind, your core branded destination doesn't have to be your blog (although for most bloggers it will be).  It's up to you to choose which of your online profiles or destinations you want to set up as your central hub.  Just remember, that core branded destination should be the place online where you can tell your complete story, continually add value to the online conversation, build relationships, and share your messages.
Stay tuned for Lesson 3 in the Blog Marketing How-To Guide Where I'll talk about positioning your blog against all of the other online destinations that people can choose to visit each day.
Susan Gunelius is a published author and President & CEO of KeySplash Creative, Inc., a full-service marketing communications provider also offering branding and social media consulting services. Susan also speaks about marketing, branding and social media at events and conferences. Her marketing-related articles have appeared on Web sites such as Entrepreneur.com, Forbes.com, MSNBC.com, BusinessWeek.com, FoxBusiness.com, and more.