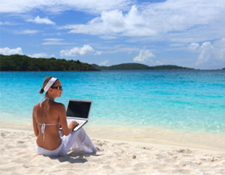 Guest Bio: Logan Lenz is the founder of Endagon Enterprises, a web and music agency in Fort Lauderdale, Florida.
I have the extreme burden of juggling my own blogs and managing all of the clients that I represent everyday. In order to stay active on my blogs, something has to give. The client work that I have is just too taxing and demanding for me to be able to keep a blog schedule for my own sites.
Because of this, I have employed the power of some tricks that enable me to write posts whenever I want, and essentially wherever I want. Even if I'm inspired while at the grocery store, I have given myself the ability to blog right then and there.

The Power of Pending Posts
As an avid WordPress user, I take advantage of the feature that allows you to schedule the publishing of your posts for some time in the future. This can be an immense advantage for someone that knows they are going to be unable to post a blog during a certain set of dates. Whether you go on vacation or just have a busy week ahead, you can write all of your blog posts on Sunday night for example, and set them to publish once a day throughout the week. This creates the illusion that you are still working on your blog even while you're away on a beach somewhere.
Pending Tweets
Alongside your pending blog posts comes the ability to set up tweets to be sent out when the post publishes. While there are a number of WordPress plugins that offer automatic tweeting when a new post is published, I suggest using a Twitter application such as Hootsuite or CoTweet to set up pending tweets just as you had done in WordPress. All you have to do is grab the unpublished URL from WordPress and schedule your tweet accordingly for the time right after the pending post is set to be published. Be sure to include your catchy headline as you normally would when sending out the tweet.
The Power of Mobile Devices
Not only is writing all of your weekly posts at once a great idea, but giving yourself a chance to write a new post on your mobile device is an extreme advantage as well. With the WordPress mobile application (or even just a Notepad app), you can write a blog from wherever you want from your mobile phone.
Putting It All Together
If you decide to utilize all of the suggestions listed within this blog post, you might realize that you are given the freedom to write blogs (full-time work for some) at your disposal. Theoretically, you could do all of your work on Sunday night and enjoy the rest of your week as you'd like – all while making it seem like you are hanging around your blog everyday.
Other Platforms
Even though I'm a WordPress user, other blogging platforms like Blogger and Tumblr offer the same functionality that would allow you to design your blogging lifestyle as you deem fit. No matter what platform you use, at least try to leverage these blogging techniques to give yourself some freedom from the web the next time you decide to go on a trip. You can thank me later.