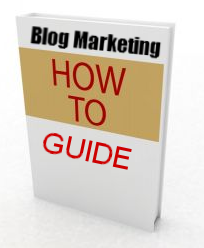 So far in the Blog Marketing How-To Guide, you've learned what marketing is, what branded destinations are, and what brand positioning is.  Now, it's time to link your various branded online destinations so you can effectively surround people with your branded experiences from which they can self-select how they want to interact with your brand.  Ultimately, all of these destinations should lead back to your core branded destination, as discussed in Lesson 2.
There are a wide variety of ways that you can use to link your branded online destinations, which I discuss in my book, 30-Minute Social Media Marketing, and I'll touch on a few of the heavy-hitters here in Lesson 4 of the Blog Marketing How-To Guide.
First, make it easy for visitors to your blog to find you across the social web by prominently displaying links to your various social media profiles in your blog's sidebar.  You can use social media icons to draw attention to your other branded destinations.  Alternately, you can include links to your most recent updates and activities on other branded destinations using Facebook and Twitter widgets.  There are even tools and WordPress plugins available to help you stream content from your YouTube channel, Flickr profile, SlideShare content, and more directly in your blog's sidebar or footer.  Not everyone likes to read a blog, but if they find your blog, you don't want to lose them. Therefore, it's essential that you offer different ways to interact with you and find your amazing content.  Don't bury those choices!  Instead, prominently display them on your blog.
Second, make sure your blog and Twitter content are available in your social networking profiles.  Use the tools available to you in Facebook and LinkedIn to automatically update your profile, page (for Facebook), and groups (if groups allow the news feature in LinkedIn) with your most recent blog and/or Twitter content.  It's just one more way to offer your amazing, shareworthy content and give people another way to interact with you and your brand.
Third, make sure all of your branded destinations offer a clear way to get to your core branded online destination.  That could be through a link in your bio or profile, sharing content, or any other method you choose.  The point is to make your core branded online destination easy to find from any other branded destination that you maintain.
Fourth, use a tool like Twitterfeed to automatically feed your blog content to Twitter.  Take a few minutes to set up your autofeed with a compelling introduction and shortened URL that you can track.  Twitterfeed offers these options and more.
Fifth, don't forget to lead people to your branded online destinations (particularly your core branded online destination) from your offline communications and marketing efforts as well.  For example, be sure to include links in your email signature line, on your business card, on your invoices, and so on.  If there is an opportunity to include an extra line of text with a link to one or more of your branded online destinations in any communication you create, add those links!
Again, theses are just a few key suggestions to help you begin interlinking your branded online destinations, but it's enough to set you up for long-term blogging growth and success.
Stay tuned for the next lesson from the Blog Marketing How-To Guide coming next week here on BloggingPro!
Read previous lessons in the Blog Marketing How-to Guide:
Susan Gunelius is a published author and President & CEO of KeySplash Creative, Inc., a full-service marketing communications provider also offering branding and social media consulting services. Susan also speaks about marketing, branding and social media at events and conferences. Her marketing-related articles have appeared on Web sites such as Entrepreneur.com, Forbes.com, MSNBC.com, BusinessWeek.com, FoxBusiness.com, and more.