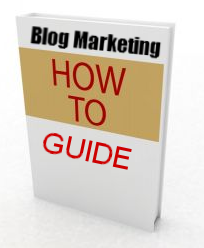 If you've read the previous lessons in the Blog Marketing How-To Guide, then you've already set up your blog and your other branded online destinations and interlinked them to surround consumers with your content.  Next, you need to begin creating shareworthy content to begin creating your reputation as an expert and the go-to-person for information, discussion, and questions related to your blog's topic.
Creating your online reputation can't be done from a silo.  In other words, you have to branch out across the social web and get involved in the ongoing conversation.  Imagine you're at a crowded party or business networking event.  If you stand off in the shadows or alone in a corner, you won't make the connections you need to advance your social life or career.  Instead, you need to dive into the conversation, introduce yourself, and add value.  The same rule applies to creating your online reputation.
In other words, you need to get on the radar screens of online influencers by demonstrating your knowledge and expertise to them so they view you as a credible and authoritative source.  At the same time, you need to connect with other people who are interested in your blog's topic, so they become aware of who you are and the value that you bring to them if they communicate with you.
Bottom-line, there are three basic steps you need to take at the very early stages of your blog marketing plan in order to begin creating your online reputation:
Create amazing, shareworthy content that showcases your knowledge and expertise.
Get on the radar screens of online influencers in your field, so they know who you are and what you bring to the conversation.
Reach out to people who are likely to be in your blog's target audience.  Engage them and offer interesting, useful, and valuable information to them.
No one will want to follow you back to your own branded online destinations, such as your blog, if you don't provide meaningful contributions to the online conversation.  Take the time to find your key influencers and target audience online, and then devote time to developing relationships with them that are based on your area of expertise.  In time, your reputation as the go-to-person in your field will grow, as will traffic to your blog and incoming links to your blog content.
Read previous lessons in the Blog Marketing How-to Guide:
Susan Gunelius is a published author and President & CEO of KeySplash Creative, Inc., a full-service marketing communications provider also offering branding and social media consulting services. Susan also speaks about marketing, branding and social media at events and conferences. Her marketing-related articles have appeared on Web sites such as Entrepreneur.com, Forbes.com, MSNBC.com, BusinessWeek.com, FoxBusiness.com, and more.