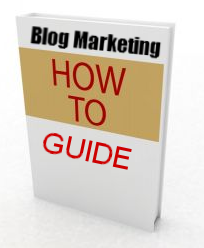 As you write content and participate in online conversations to directly and indirectly promote your blog, you need to understand the difference between two fundamental marketing theories to ensure you're publishing the type of content and comments that will help you reach your blogging goals.  Those two theories are push marketing and pull marketing, and they're at the basis of all marketing strategies.
Following are overviews of both push marketing and pull marketing, so you can see the underlying differences in the types of communications and content you should be publishing online to market your blog effectively.
1. Push Marketing
Push marketing works exactly as the name implies.  Businesses (or you as a blogger trying to grow your blog's audience) push messages to consumers in an attempt to pique consumers' interests in a product or business and make sales.  Most often, the business controls push marketing strategies and has a very specific end goal in mind.  Traditional advertising is a form of push marketing where companies try to craft messages and images that will motivate consumers to take an action such as making a purchase. Similarly, pushing a discount message out to your audience via Twitter or another form of social media is a push marketing tactic.  Consumers may not have asked for such a discount, but you're pushing it in their direction with the hope that they'll be motivated to make a purchase.
2. Pull Marketing
Pull marketing is the opposite of push marketing.  Instead of pushing information to consumers, consumers pull information from businesses.  In other words, companies create marketing messages in response to consumers' specific demands.  When consumers make it clear that they want a new product from you, and you deliver that product, you've responded to a type of pull marketing.  Similarly, if the online conversation prompts you to publish a blog post that answers questions you heard in that conversation, you've just implemented a pull marketing tactic.
Using social media marketing and content marketing to promote your blog enables you to pursue both push marketing and pull marketing tactics.  In fact, the best social media marketing and content marketing strategy for a blogger is to pursue far more pull marketing tactics than push marketing tactics.  In other words, spend most of your time listening to conversations, finding opportunities, and filling those gaps by publishing content and participating in conversations in which your audience is pulling you in and demanding more.  Spend a much smaller amount of your time pursuing push marketing tactics that can be viewed as self-promotional.
Read previous lessons in the Blog Marketing How-to Guide:
Susan Gunelius is a published author and President & CEO of KeySplash Creative, Inc., a full-service marketing communications provider also offering branding and social media consulting services. Susan also speaks about marketing, branding and social media at events and conferences. Her marketing-related articles have appeared on Web sites such as Entrepreneur.com, Forbes.com, MSNBC.com, BusinessWeek.com, FoxBusiness.com, and more.