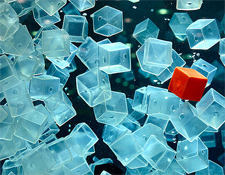 Just like you, I gather advice from different sources. I'll scour the Web to learn how to become a better blogger, search for ways to do this, that and the other, and lean on friends and family for advice.
And a lot of the advice we uncover is useful.
But let this blog post serve as a reminder that sometimes it's best to do things YOUR way.
Case in point…
After experiencing moderate sales of an ebook I wrote on how to quit your job the right way, I decided to make an effort to up my game. After all, I put a lot of hard work into this valuable resource and want to sell a gazillion of them. 😉
So I started researching landing pages. I looked at successful examples, beautiful examples, efficient examples, and so on. I took the best from each and overhauled the landing page.
The results?
I went from selling a handful a week to ZILCH. ZIP. NADA. And the worst part is, I've seen traffic to the landing page rise! That means my tweaks, based on other people's success, killed my conversion rate.
I've always beat to my own drum, and I think a lot of my success can be attributed to a unique attitude, perspective and approach to the projects I tackle.
My message here is that you need to be different in order to succeed…
– Do not to get lost in SEO. Just write strong content.
– Be aware of the "competition" but do not bother to follow their "lead."
– Have the courage to be unique. If you WANT to write about something, just do it, before someone else does!
– Get creative with blog layouts, images, color schemes, etc. Dare to be different!
– Don't be scared to leave controversial comments on other blogs.
– Want to guest blog for another website? Shoot for the big boys!
Yes, there are certain tried and true methods that work that can increase the odds of success. But with those conformist ideas, also come a lower ceiling. If you want to aim for the sky, then start by setting yourself apart.
Now if you'll excuse me, I have a landing page to work on!
After working for FOX News and MTV Networks, Andrew G. Rosen founded Jobacle.com, a career advice and employment news blog. He is also the author of The Exit Guide: How to Leave a Job the Right Way.