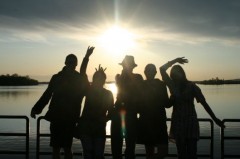 Every blogger wants to be the star of their site. One doesn't usually go through the time to create a site and write for it regularly with the intention of have others show them up and become what matters the most.
However, nearly all successful blogs are something of a collaborative effort between the blogger and their community. Commenters, forum posters and other community members no only help encourage others to visit the site, produce additional (free) content for it and expand the conversation/discussion on everything you write about, but they more importantly add a layer of depth to your writing by bringing in outside viewpoints, something no person can get alone.
Unfortunately, a lack of comments may be turning your visitors away from your site and it can be extremely discouraging for a blogger to put a great deal of work into a post only to find thousands of people read it and almost none take the time to say a few lines.
For a healthy blog, community is crucial and if you don't work to grow it, you may find that your site is left in the dust as others in the niche race ahead to do bigger, better things.
The Pitfall
Community, in this day and age, is not just about those who who fill out your comment form and leave notes on your site. Community is about anyone who participates in your site, no matter where they do it. It could be the Twitter user sending out your link, another blogger writing a post responding to yours or just someone mentioning your site an another forum.
The conversation and community for your site doesn't just happen on your domain and instead happens everywhere that your readers are talking about what you're doing.
Cultivating this community is now more important than ever. Without a strong community, your site is doing to struggle as word of mouth, especially via social networking sites, is crucial for finding new visitors to your site and growing it. Without it, you're trying to compete with sites with three or four avenues for new visitors while yourself only having one or two, making it only a matter of time before your site begins to fall behind.
However, traditional comments are still important as well. Not only do they offer an immediate feedback on a post, but they give your readers a stake in your site and a reason to return. Where the community outside your virtual walls brings new people in, your conversation within them is what keeps them coming back.
Without community, you're basically limited to advertising and search results as a means for traffic generation. Unfortunately, without many people linking to your site, even your SEO will suffer.
In short, without a community, there's almost no chance for your site to truly, sustainably grow and that, especially in the long run, can be a very dangerous pitfall for a site to fall into.
How to Avoid It
Fortunately, community is not that difficult of a thing to cultivate. If you write engaging content that people want to talk about and make people feel welcome to do so, they usually will.
However, how to do that is not always clear cut, especially since different people want different things and every site is unique in terms of what drives its community. Even for those with years of experience, community building, both off and on site, often comes down to a lot of trial and error.
That being said, there are a few things that you can do to encourage your community to grow and here are just a few suggestions to ensure you have a healthy supply of commenters and other community members.
Remove Barriers to Entry: Don't require your visitors to register to leave comment. Consider giving them the option of using Facebook, Twitter, etc. if they want something more personalized, but make it as easy as possible for someone to leave a comment. Likewise, have the relevant social networking buttons on your site prominently, making it almost an impulse decision share something with their friends.
Encourage Conversation, Ask Questions: Conversation is what creates a community. In your post, ask people directly what they think on a topic, what they would suggest and seek out their feedback directly. Someone may not leave a comment or write a blog post about your article unprompted, but they might if you ask them a question or invite them to directly. Give people something to respond to.
Reward Commenters: Make sure commenters, especially your most active community members, are rewarded. On your site this means making sure they have links to their sites and profiles, elsewhere, this means commenting on their posts and participating in their conversations. Sometimes, encouraging community is as simple as sending a brief email saying thanks to someone who linked to your or a quick @reply to the person who retweeted you on Twitter.
Leave a Door Open: Sometimes, no matter how much you directly encourage interaction, others don't feel that they can add anything to the conversation. The reason is that you can write a post that is so authoritative and so complete that almost no one has anything to say. It often pays to cut a list a bit short or leave out a few key points as a means to encourage readers to fill in the blanks for you, thus starting up a dialog.
Have a Clear Comment Policy: You need to have a clear, effective comment policy that makes readers feel welcome, even those with differing opinions, but allows you to keep out the troublemakers. The strongest on-site communities usually grow like a well-pruned tree, with the bad branches cut off before they become problems.
Not Every Post Has to Be a HomeRun: Though a blogger is only as good as his last post, not every post has to be a community-building homerun. It's ok sometimes to create posts meant for people to just read and get information from. While you don't want to do too many of those posts, not everything you write has to be an exercise in community building and finding the right balance can help your site grow even faster by giving you both authority and community.
All in all, building a community is just a matter of leaving the door open and giving people a reason to step through. It's a fairly simple concept, but one that many bloggers miss out on and then have to watch as their site struggles to gain any long-term momentum.
Bottom Line
Though community building may not seem like a big deal for a blogger, it is something every blogger needs to at least think about. As Liz Strauss is fond of saying the conversation about your site is going to happen whether you want it to or not so it might as well happen on your site or, in this day and age, at least benefit your site.
What you want to avoid is a situation where you get neither the conversation on your site nor the benefit of links from it. Though it is great if people are talking about your site at their office water cooler, it doesn't do a great deal of good if you never find out about, others can't participate and word doesn't spread about the conversation.
The goal of growing an online community is not just a matter of getting people to talk about what you are doing, but having them do it in a way that is productive for you and in a way that you can participate.