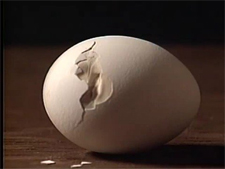 Have you ever had a blank screen or bare page laugh at you? I have. Bouts of blogger's block, no matter how brief, can be difficult periods to navigate. In my conversations with bloggers, it appears that one of the biggest contributing factors leading to a writing dry spell is a lack of blog post ideas.
An idea for a blog post can strike anytime, anywhere. It's your job to be ready to catch the idea, remember the idea, and turn the idea into a blog post. Here are a few places that I like to brainstorm:
THE SHOWER. Visit the children's aisle at your local toy store and pick up some "bathtime crayons." These will enable you to scribble temporary notes on bathroom tiles. If you're looking for something more permanent, try to track down a diver's pad.
THE COMMUTE. Whether you are behind the wheel stuck in traffic or chugging along on a train, the commute to work is often the only time we get to ourselves all day. This can lead to a clear mind, one conducive to idea generation. Keep a small pad and/or an audio recorder with you at all times — just keep your eyes on the road!
DURING EXERCISE. As soon as I go out for a run or hop on my bike, the ideas start to flow. It's almost a sick joke; the good concepts come to me when I have no place to capture them. Sure I can keep paper and a marker on the treadmill, but what about when I'm in motion? In these cases, I say the idea aloud (assuming I'm not in a crowded gym). That gives me a better shot of remembering it post-workout, after the endorphins kick in.
READING OTHER BLOGS. You already know that I don't read your blog. But recently, I have found blog comments to be an excellent source for blog post ideas. Readers' thoughts are a great way to view a topic from another perspective – one that might have never crossed your mind. Even quick comments can be the seeds for tomorrow's blog post.
What do all of these blog idea birthplaces have in common? They are all activities that we do alone. We need to slow down before we can think clearly, and for many people, "alone time" is the perfect place for a solo brainstorm.
Where are most of your blog post ideas born?
After working for FOX News and MTV Networks, Andrew G. Rosen founded Jobacle.com, a career advice and employment news blog. He is also the author of The Exit Guide: How to Leave a Job the Right Way.