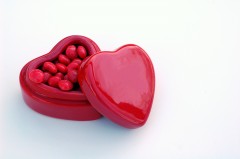 Running a blog is a lot like a relationship. It requires a high level of commitment, honesty and and work to keep it going strong.
However, one of the most important elements of both our human and our blog relationships is keeping the spark alive and keeping ourselves "in love" with our partners.
This isn't an easy task. As the saying goes, familiarity breeds contempt and though one might not actually hate their site, they may not have quite the same passion for it that they once did. However, a lack of passion can easily kill a good site, not only is it one the "Three Ps" of a successful blog, but it is something that makes your blog and its writing much better when you have it.
So, in order to keep moving forward with your site, you need to find a way to make sure you are just as passionate about what you're doing today as you were yesterday and the day before. But as the newness and excitement wears off, that can be more and more difficult, resulting in
The Pitfall
For most bloggers, when they first start out the passion they have is strong and their dedication to their site is the highest it will ever be. It's that "new love" phase that every relationship goes through where the excitement and novelty puts one "head over heels" with their partner.
But that eventually wears off. After a few months of blogging (or dating for that matter) the newness begins to fade and the routine and the downsides begin to show up. Some would say that the rose-colored glasses come off and we begin to see blogging for what it is, a lot of work often for very little reward.
Once this bleak reality sets in, many blogs are abandoned. Without that strong "new love" feeling, there's nothing to keep the blogger writing and moving forward with their site without other rewards.
Other sites, however, manage to escape that peril and slip into kind of a "new normal" where the passion may not be as great or as fresh, but it is still more than strong enough to keep going and keep writing, even if the site is struggling in other areas.
So how does one fall in love with their site again and overcome that? There's no single right answer that will work for everyone but there is a lot that you can do to help keep the passion alive, even after the newness has worn off.
How to Avoid It
Keeping your passion for blogging is more about remembering why you started in the first place than anything. It can be increasingly difficult to do so as you get farther and farther away from the early days of your site but if you can tap into the energy and reasons that made you start blogging, you can likely find reasons to continue.
Still, if you're truly down on your blogging and thinking about walking away, just remembering why you got started may not help much. If so, here are a few things that might help you recapture those lost feelings for your blog.
Re-read Old Posts: Go back and read your first posts. Not only will the have all of the passion and heart that you put into them, but you'll also see how far you've grown as a blogger, often in a very short period of time. This combination of forward momentum and passion can be very potent in recovering from the blues.
Talk to Your Readers: Engage with your readers either online or, if at all possible, off. The people who read your site regularly do so because they feel strongly about you and what you write about and that can be very reaffirming. Even if you only have a few readers, encourage them to leave comments or send you letters so that you can see what they have to say and use their enthusiasm to your benefit.
Write a Mission Statement: Contrary to corporate culture, mission statements are not meant to be read and followed, but written. If you feel a malaise about your site, sit down and write out exactly what you want it to do and what you want it to be. This isn't the same as a business plan, but rather, is a glimpse at what function you want the site to play in both your life and in the world around you. Find your site's purpose, find your passion.
Participate in Other Communities: Sometimes we all get so focused on our own corner of the Web that we forget to participate in the sites that are related. Leave a few comments on relevant blogs, join a forum on your topic or generally find new places to meet people in your niche. Not only is this good promotion, but it helps you see what makes your site special and rediscover why you started it in the first place.
Make a Change: If all else fails, try to pinpoint something that makes you unhappy about your site and fix it. It may be that your lack of passion stems from a genuine dissatisfaction with your site and changing ad networks, using a new theme or taking a new direction with the site may help you rekindle your old feelings.
The one thing that you probably don't want to do is take a break, at least not right off. If you feel that you're suffering from burnout, not lack of enthusiasm, a blogging vacation may be just what you need. But if you're down on the idea of blogging itself, walking away for a while is probably the best way to ensure you don't come back, at least not to that site.
Still, if all else fails, some time away still might not be a bad idea. After all, if you're planning on walking away for good, taking a planned week off as a trial run might be a good way to see if you really want to do it.
Bottom Line
There really is not substitute for passion in blogging. At the end of the day, if you don't have it, you're going to find yourself lagging behind those who do.
However, while you can rediscover or tap into emotions that might be lying dormant, if the feelings truly are gone, there isn't much that one can do.
There's no shame in walking away from a blog if it isn't suiting your needs or you can't give your best work to it. However, before doing that and losing all the work you have put into it, it's worth taking the time to make sure that's really how you feel and its not just a passing phase.
After all, little in life is more frustrating than working hard to build something, abandoning it and then realizing exactly what it meant to you later.
Those types of regrets can be very difficult to deal with, especially as you try to move on to new projects.