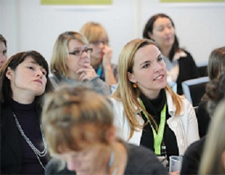 If you've been working on your blog for awhile (or simply reading a lot of other blogs), then you have no doubt heard about blogging events. These conferences are held fairly often and all over the globe and while some are generic, many cater to certain types (or categories) of blogs. For example, there are conventions for food blogs, travel blogs, activist blogs, and even for people who blog about events (like blog conventions, for example). In short, no matter what your content, there is likely a gathering of like-minded people somewhere in the world focused on your topic of choice. Or at least there's something general that you could attend to get an idea of what they're all about. Unfortunately, most have some kind of fee to attend (along with the money you'll spend for travel and lodging). So what makes a blogging event worth attending in the first place?
For starters, it's a great way to network, especially if you're participating in an event that is geared toward your particular topic. If you are just starting out, it can really help to meet and discuss problems you're having with people who have been in the trenches. Conversely, if you've been doing it for awhile, you may be able to offer advice to those who are blogging for the first time. And who knows what kind of opportunity for collaboration could come out of these meet-and-greets? This can be an especially rewarding experience for those trying to monetize their blogs since networking is a great way to secure advertising dollars as well as take on affiliates (remember, not everyone there is going to be a blogger…there will no doubt be vendors looking to tie themselves and their wares to a blog to increase their own sales).
In addition, the main function of any convention is to convey information. There will no doubt be a number of speakers giving seminars on how to improve your blog or discussing current trends in blogging and in the marketplace (either in general or pertaining to a particular niche). This type of information and analysis can be immensely useful to anyone who is trying to grow their readership or looking to monetize. In addition, most of these types of events offer workshops with industry professionals as well as discussion panels packed with experts answering audience questions. In short, blogging events can be a great way to assimilate information and pick the brains of people who know the ins and outs of the industry.
Blogging is not exactly something you would go out and get a college degree in. Most people learn it through painstaking trial and error. They struggle to raise readership and bring in the advertising that will allow them to take it on full time. And then there is the ongoing effort to provide fresh content that is both informative and engaging. Blogging is a labor of love. But you don't have to tackle it alone. Consider attending a blogging event as a way to meet like-minded people and get the information you'll need to ensure longevity. Who knows, you may soon be one of the "experts" giving seminars at the very events that first taught you how to make the most of your blogging experience.