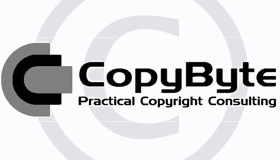 is a copyright and plagiarism consulting firm that specializes in helping small, independent content creators get the most from their work. We provide content tracking, copyright enforcement, licensing and other advisement services.
At CopyByte, our focus is not merely on removing every unlicensed copy of a work but finding ways to use the realities of the Web to work for content creators, including encouraging legitimate reuse and harnessing the power of their Web for good, rather than fighting against it blindly.
In addition to the above services, CopyByte provides plagiarism analysis, content analysis, expert witness testimony and other services to help with litigation and legal matters.
However, CopyByte is not a law firm and should not be taken as legal advice. Instead, we work with a variety of technology and legal partners to provide a our services and help develop practical strategies that can work on the Web.
New clients receive one free hour of consultation simply by scheduling an appointment and times are usually available within a few days.
So, if you're interested in seeing how how you can get the most out of your work and your effort, schedule an appointment with CopyByte today. We will be happy to see how we can help.
Check out our services.