When it comes to WordPress blogging, many new users want to "eat their cake and have it too."
In other words, many want some of the freedom of using a WP centric host without having to sacrifice on server space, deal with various plugins or even pay a monthly fee for hosting.
Although WordPress.com (which is owned and operated by Automattic) does provide users with free hosting, many complain over the inability to use their own ads or being forced to pay a large fee in order to upload videos.
For those of you seeking to embrace a WordPress Centric host without having to shell out the big bucks, you might want to consider using a service under a highly prized domain name.
What Is Blog.com?
Believe it or not, Blog.com is the largest WP centric host outside of the walls of WordPress.com, with the former site boasting over 2 million users.
Started in 2004, the site has provided users with an alternative to WP.com, with comparable prices for premium features such as the ability to customize the appearance (via CSS), as well as the ability to pay for more space by the gigabyte.
While closer to WordPress.com in spirit than other WordPress centric services (like Page.ly or BlogOnCloud9), Blog.com does offer a few advantages over its WP.com rival.
Dude, Where's My Ad?

Contrary to popular belief, WordPress.com does actually allow bloggers to generate revenue off of their own ads, although bloggers need to have a minimum of 25,000 monthly page views.
Worse, users are required to split the revenue 50/50 with Automattic, as well as limits you to only two advertising platforms (Google Adsense and Skimlinks).
Blog.com on the other hand allows bloggers to use any advertising group upon their site provided they purchase a "no ads" upgrade for $30/year which allows them to run any ad network and (most importantly) keep 100% of the revenue generated.
Media Uploading Is Included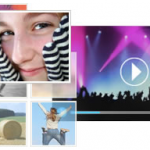 Although WordPress.com supports video, audio as well as image uploading, in order to receive access to the former two services users will need to purchase a VideoPress (which costs $59.97/year) and a space upgrade (priced at $19.97/year), respectively.
Blog.com on the other hand allows users to upload both audio and video files to their blog without having to pay an extra fees or upgrading services.
While the latter does limit you as to how large uploaded media files are (25 mb per video or audio), it should be enough to satisfy amateur podcasters and aspiring video bloggers.
Space Wars

When it comes to providing initial space, Blog.com provides users with 2 GB of free hosting compared to WP.com's 3 GB.
However, when it comes to upgrading, Blog.com offers users more GB's for their money by offering users 10 GB, 20 GB, and 30 GB of space for $20, $50, and $90 a year, respectively.
WordPress.com however offers 8 GB, 18 GB and 28 GB of space for $19.97, $49.97 and $89.97, respectively. To Automattic's credit they do offer users even more space (up to 103 GB in fact!) while their main rival stops at 30 GB.
Where Blog.com Fails
Although for the most part Blog.com match's or exceeds WP.com (especially when it comes to themes, custom CSS pricing, etc.), there are a few disadvantages that may convince WP bloggers to stay within Automattic's arms.
Unlike their rival, Blog.com does not provide bloggers with any defense against spammers outside of manual moderation, allowing any spammer to declare open season upon your commenting threads and actually win.
Users can not utilize services like Akismet or even a third party plugin, which means users will have to dedicate a large amount of time weeding out comments.
Also upgrading to a custom domain (via mapping) is also much more expensive than their WP.com rival, costing $18/year with Blog.com which is much more expensive than Automattic (who only charges $12/year).
Should You Blog On Blog.com?
Users seeking an inexpensive way to problog upon WordPress without dealing with the hassle of servers, plugins, etc. should consider Blog.com as a serious option.
While the service wouldn't satisfy a geek like me, it should appeal to those wanting more freedom with their WordPress.com blogs (especially those seeking to generate revenue) without having to pay a monthly fee for hosting.
Image Credits: Blog.com
Author:
Darnell Clayton
Darnell Clayton is a geek who discovered blogging long before he heard of the word "blog" (he called them "web journals" then). When he is not tweeting, Facebooking, or blogging about space and his beloved iPhone, he enjoys running, reading and describing himself in third person.