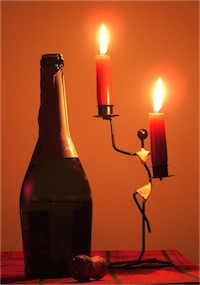 As we near the end of the year, it is a time for reflection and a time to look a head. As the time comes to turn over the calendar, its inevitable that we think about the year that has passed and what we would like for the one to come.
While this reflection can be great, it should be a part of an ongoing process, not just a once-per-year analysis. Those who wait a whole year to evaluate what/who their blogging is for. what they want to achieve and how well they are doing, are essentially driving with their eyes closed.
But much more dangerous than New Year's reflection is New Year's resolutions. Though we would all like to do better in the new year, many people set hard goals for themselves that are both unrealistic and unnecessary. Failing those goals, which is often inevitable, can be more damaging and discouraging than if one simply didn't make them at all.
That being said, New Year's can be a great time to plan for your blog's future and to set some goals, but one has to do it well and do it with an eye on realism, not with the weightiness and need for revolution that many assign the holiday.
Remember, it's just a new date on the calendar, not the end of the world.
The Pitfall
The problem with New Year's resolutions isn't that people make them or that they fail to keep them sometimes, it's the importance and weight many assign them. As great of an opportunity as New Year's is as a time for reflection, it is not the only time nor even the best, the best time always being the present.
Still, when the calendar rolls over, many get caught up in the fever of making the next year better than the last and they assign themselves goals and make promises that they think will achieve that. The problem is that, many times, those objectives are not realistic and the resolutions get broken. As it becomes clear that the new year won't be everything they wanted it to be, many get discouraged, even if their changes are making things better.
In short, impractical and unneeded New Year's resolutions only serve to discourage people more and that's as true for blogging as it is any other area of life. If, for example, someone makes a resolution to post five times per week, every week, they might struggle to maintain it but, if they slip and fall out of schedule, it can be much more worse than simply posting four or three times a week and keeping it consistent.
But what is often even worse is the way many react when a resolution is broken. Either A) Treating it as if it was never important at all, even if it was doing good or B) Overreacting and getting discouraged about the very idea.
Either way, this prompts people to simply give up and walk away, throwing out the good with the bad, and that, in turn, causes them to either fail to make any progress or, even worse, surrender completely.
How to Avoid It
This doesn't mean that you should completely avoid making New Year's resolutions or using this time of year to do some evaluation. Not only does it carry some weight but it's also a natural time to do so as it's easy to look back from the beginning to the end of a single year.
However, it is important to set goals and resolutions that are realistic, useful and practical. That's not as easy to do as it might seem and, more than anything, that's why it's so difficult for many people to stick to their resolutions.
With that in mind, here are a few tips to make blogging (and possibly other) New Year's resolutions that you will likely stick with.
Make "Soft" Resolutions If Possible: Making hard resolutions may set an easy barometer success but it often places a false test on whether the resolution is working. Rather than saying you're going to do one "long form" post per week, try setting a goal to do "on average one per week" or "About one per week".
Give Yourself Breathing Room: If you do want to set a firm goal, such as posting X number of times per week, give yourself some breathing room with the resolution. If you think you can do five posts, set the resolution for three or four. This makes success much more realistic while giving you most of the benefit.
Reward, Not Punish, Yourself: Rather than beating yourself up when you slip, reward yourself when you succeed. This helps prevent discouragement that results from a slip and encourages you to continue forward
Base Resolutions on Goals: Keeping a resolution is usually directly tied to the benefits you see from it. Rather than adopting resolutions blindly, take a look at your actual goals and pick resolutions that will help you meet them.
Focus More on Continued Evaluation: Instead of setting goals on the first and then trying to ride them the next 365 days, instead, evaluate your needs regularly and see if they still make sense. You might find goals made in January don't make sense in March.
In short, if you're smart about how you make your resolutions and the goals that you set, the new year can be a valuable opportunity to evaluate and grow. However, if you aren't, your resolutions can easily set you off track, discourage you and generally create more problems than they solve.
Bottom Line
Though it may seem that the way to keep New Year's resolutions from hurting your efforts is to either not make them or to not take them seriously, nothing is farther from the truth. The turning of the calendar is a great time to do some reflection and evaluation should be a constant part of your blogging process, including at New Years.
That being said, it's important that you do such evaluation and goal setting the right way and do it in a manner that doesn't discourage needlessly, place undue burdens or simply send you down the wrong path.
Using this chance wisely can make you a much better blogger and help you grow your site but using it the wrong way can discourage you and cause you to both miss an opportunity and, in some cases, just give up outright.