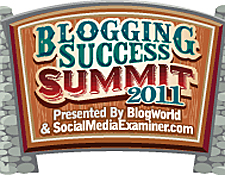 I don't get excited for networking events.  The thought of talking myself up and giving/receiving hundreds of business cards is about as sexy as Betty White on a beach.
My guess is that many bloggers feel the same way.
That's why I want to tell you about the Online Business Blogging Success Conference 2011, the very first blogworking event I will attend.  And why?  Because it's 100% online.
If you are a business that is looking to leverage the power of blogging and grow a loyal readership that sends transactions your way, this online blogging conference is for you.
The cool part is that the sessions are  spread out across the first three weeks of February and occur live.  Better yet, if life gets in the way and you are unable to attend a session that you have your eye on, you can always access the video file at your convenience at a later date.
Blogging heavyweights Darren Rowse and Brian Clark are taking part, and there are breakout sessions being held by social media reps from Technorati, Ford, Cisco, McDonald's and more.
The current deal offers attendees 50% off, making the price $297.  It's not cheap, but this event has the makings of being the must-attend blog event of the year (especially if you're not a fan of airplanes!).
You can check out Social Media Examiner for the well-crafted sales pitch.  I hope the seminar lives up to the hype.  Right now, I'm pretty stoked to be attending!
Let me know if you're taking part too.  I'd love to get to know you, without all of that awkward business card exchanging stuff!
After working for FOX News and MTV Networks, Andrew G. Rosen founded Jobacle.com, a career advice and employment news blog. He is also the author of The Exit Guide: How to Leave a Job the Right Way.