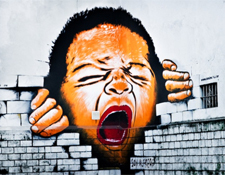 Something many people struggle with is voice. There are lots of good blogs with strong design and good content, but have trouble standing out because they lack voice – any type of verbose, attractive vocabulary that makes people stop and take notice of their work.
So, how do you do it? What differentiates you from the loud and proud Gary Vaynerchuk or anyone else with a bold voice? Believe it or not – not that much!
This is not public speaking
The biggest problem people have is fear of failure. So, they don't stand out with their opinions or riff off with willingness to be wrong. Somehow, it's deep inside their membranes that every time they write a blog post, 10,000 people will show up outside their house and start booing. The incredible thing about blogging is that that's pretty much impossible. The people who read you are generally fans, and they all read you one at a time.
There is no group think. You can leave with your self confidence crushed.  With public speaking, you're supposed to imagine someone naked to make you feel better. With blogging, imagine that only ONE person is reading your post.. and that person is your friend. You should now have the ability to say whatever you want! So DO IT! You have nothing to lose!
What's the last thing you read in your niche that you disagreed with?
WRITE ABOUT IT. This, combined with the previous point, is the recipe for attention. It's the recipe for two things – for someone to hate you, or for someone to love you. You have to have both to make it. There will always be haters, but what matters is there will always be people that adore you as well.
Remember, though, the people that hate you will always hate you in quiet. You do not have to answer to press. You do not have to get hate mail or run for office. This is easy. You can have an extremely successful blog, make hundreds of thousands of dollars and never have to get in one face to face argument about what you wrote about.
Isn't that incredible? Yes! – so why can't you be incredible too?
What's the last thing in life that you thought all day about?
WRITE ABOUT IT. If you really care about your blog subject – and you should – this should be somewhat relatable to your blog. The best blog posts are the ones you are absolutely passionate about. Not the ones that you sat in your chair and thought of on the spot.
Likely, when you get to this bullet, you'll get some regret action. Run back to point #1 – this is not public speaking. Nobody will sit and laugh at you. Likely, they will empathize. This is not high school anymore. There are no social circles that run around judging people. And really, you should be happy if they do. Because that means you're on enough people's radars to come back to #2.
As Gary Vaynerchuk once said, just f***ing care. And care with conscience closed. Really. It's that easy.