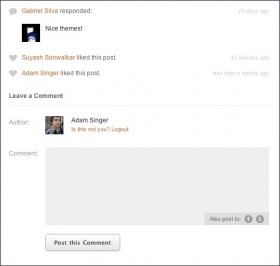 Taking a cue from their frenemy Tumblr, Posterous has introduced the "like" button for their users (which is similar to Facebook's like button).
Now it's a lot easier for your readers to "like" your posts on Posterous.  A simple click on the heart button is all that's needed to show some love.

The new "like" feature is available on all themes and replaces favorites.  When someone likes your post, a comment will be added making it easier  for everyone to see your latest fan. (Official Posterous Blog)
Unlike WP.com who tried to differentiate themselves by using a star, Posterous opted for using the heart icon instead which is a smarter move as they don't have to put the word "like" next to the icon (which both WP.com and Facebook do).
Surprisingly Posterous did not opt to include one's avatar when a post is liked, choosing to link to the readers profile instead. (hopefully the Posterous team will reconsider as avatars would help make the site feel much more personal).
With Posterous jumping aboard the "like" revolution, Blogger (aka BlogSpot) is the only major platform with no official like button of their own (although users can create one via Blogger's reactions feature).
Author: Darnell Clayton
Darnell Clayton is a geek who discovered blogging long before he heard of the word "blog" (he called them "web journals" then). When he is not tweeting, Facebooking, or blogging about space and his beloved iPhone, he enjoys running, reading and describing himself in third person.