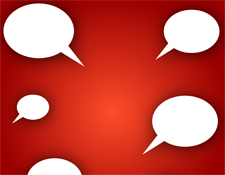 A blog without comments is like having a conversation with yourself.
Having people commenting on what you've written and leaving remarks on other's blog posts is what makes the blogosphere go round.
What are the do's and don'ts when it comes to blog comments? As a WordPress blogs two of the most commonly used anti-spam comment plugins are Akismet and GASP (GrowMap Anti-Spambot Plugin) and these can save you a lot of time trawling through pointless comments and blatant attempts at getting backlinks.
Blog readers
If you frequently comment on other people's blog posts, the next four tips are for you…
Add something constructive to the debate
Anyone can write "Nice post – thanks for sharing" or something similar. If you want your comments to stand a good chance of being published you should try to add something to the topic being discussed.
For example if someone has written a top 10 reasons style blog post, you may want to chip in with one or two reasons of your own to create further discussion.
Engage with other blog readers
A blog with lots of comment is a better place for everyone. If you've got a genuine interest in the subject matter you should debate it with other people who've left comments. Responding directly to what others have said and having an in-depth discussion can help you portray yourself as an expert in your field.
Consider your own reputation
If you're posting comments on other people's blogs, you should remember that what goes around usually comes around. If you're deliberately abusive or critical without any foundation you may find yourself getting a taste of your own medicine via comments on your own blog.
You also need to consider your own reputation and that of your business. A bad reputation can spread very quickly online nowadays.
Register with Gravatar.com before leaving comments
Make your comments more individual and memorable by registering an avatar for your blog comments at gravatar.com
Choosing a photograph of yourself is a good idea and will help make your comments more personal as well as standing out against those who have a generic avatar.

Guest Bio: Jamie Fairbairn is the founder of Search Blogger -a great place to find small business online marketing tips. Follow Jamie on Twitter here.