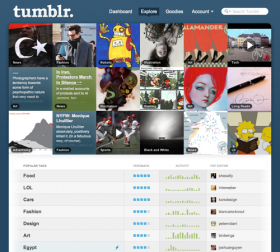 It looks like Tumblr is slowly giving up on the idea of a classifying blogs into hard categories (i.e. fashion, technology, science, etc.) and instead is embracing tags as a superior way to sort through the tumblverse.
It's hard to organize Tumblr blogs by topic. A single one of your blogs may include your personal updates, your art, your opinions, and a YouTube video of a cat speaking Japanese, all in a single day. This has been a real limitation of the current Tumblr Directory. So, for the last few weeks we've been experimenting with some brand new tools for exploring Tumblr.

The new Explore page organizes and filters posts by tag. This means that every tagged post has a chance to show up in front of an audience of millions that might not otherwise see it. Think Tumblr Radar by topic. (Tumblr Staff Blog)
Another advantage tags has over Tumblr's blog directory is the fact that users will come across fresh content which will make it easier for users to discover relevant content as well as interesting blogs.
The Tumblr explore page also gives blogging pro's choosing to host their blogs upon Tumblr (or use the platform as "a companion site") another way to reach new users beyond the traditional social networks.
Although Tumblr will probably keep their  blog directory alive (as it's one of the few ways the company makes money), we will probably see less emphasis upon it in the future from the company.
Author:
Darnell Clayton
Darnell Clayton is a geek who discovered blogging long before he heard of the word "blog" (he called them "web journals" then). When he is not tweeting, Facebooking, or blogging about space and his beloved iPhone, he enjoys running, reading and describing himself in third person.