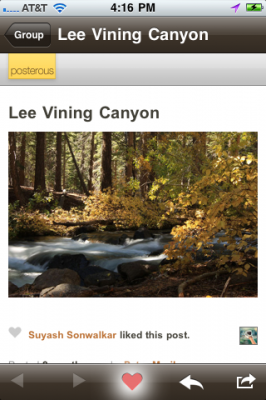 The Posterous team have recently updated their iPhone and Android apps, which now allow users to create private groups without having to power up the notebook.
With today's iPhone and Android releases, friends, family members and colleagues can now create and participate in a Posterous Group from their phone, the Web or via email without limitations.

And because every group deserves a home, each Posterous Group gets its own beautiful private web site. In other words, you can communicate with members entirely by mobile and email but your group's memories are permanently archived and viewable on your group site. (Official Posterous Blog)
Posterous fans can add friends directly from their contact list, although unfortunately there doesn't seem to be a way to add new members later on from within the app.
Users can also comment upon group blogs as well as like individual posts within the apps as well (two features which are sadly unavailable for regular Posterous blogs).
The only major bug that I discovered in iOS was when adding images from ones album, as Posterous does not show any images (note: is anyone else experiencing this?).
The latest update is available to Android and iPhone fans, and for those of you sporting a Blackberry device you may have to resort to email until Posterous launches an official app.
Author: Darnell Clayton
Darnell Clayton is a geek who discovered blogging long before he heard of the word "blog" (he called them "web journals" then). When he is not tweeting, Facebooking, or blogging about space and his beloved iPhone, he enjoys running, reading and describing himself in third person.