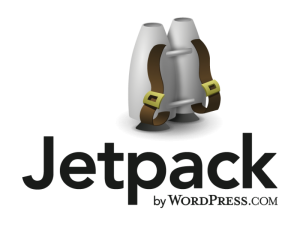 Automattic (the company behind WordPress.com) has released a plugin for self hosted WordPress fans that will make it easier for them to receive some of the features from WP.com without having to scour the WP directory for a plugin.
Today we're launching the first version of what's been a dream of mine for several years now, really since my State of the Word presentation in 2009: a way to provide feature parity between WordPress.com and WordPress.org for everybody. […]

For launch we've brought eight of the most-requested features into Jetpack as one easy bundle: Hovercards, Stats, After the Deadline, Twitter widget, shortcodes, shortlinks, easy Facebook/Twitter/WordPress sharing buttons (Sharedaddy), and for our fellow math nerds, . We're excited about this initial set of features, but we're even more excited for what's coming down the road. (Jetpack News)
Automattic is partnering with a number of hosts (including GoDaddy and DreamHost) in order to have Jetpack pre-installed with new WordPress users. Current WordPress fans can install the Jetpack plugin manually from the directory.
Note: installing Jetpack will deactivate duplicate plugins (like ShareDaddy) that you've previously uploaded, so you may have to reconfigure them again upon your blog.
Surprisingly Automattic does hint that they may offer users premium plugins through Jetpack in the future, which makes one wonder whether the company is pondering a one one stop shop for premium plugins.
Jetpack itself is, and always will be free. Some individual features that Jetpack provides will be free, but others in the future may require payment. Installing Jetpack is free and requires no payment information. (Jetpack FAQ)

Note: Emphasis mine.
While Automattic will probably launch a few of their premium plugins (like VaultPress, VideoPress and PollDaddy) through Jetpack, there might be a slim chance that Automattic could open up Jetpack to premium plugin developers as well.
In my honest opinion Jetpack is highly recommend for bloggers (both new comers and guru's), although hopefully the company will consider porting the Gravatar like button (as not everyone wants to outsource everything to Facebook).
Author:
Darnell Clayton
Darnell Clayton is a geek who discovered blogging long before he heard of the word "blog" (he called them "web journals" then). When he is not tweeting, Facebooking, or blogging about space and his beloved iPhone, he enjoys running, reading and describing himself in third person.