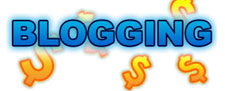 So many people are looking for ways to make money blogging. People who are new to the blogging world seem to make it more complicated than it really is. The truth is, making money blogging can be broken down into 3 simple methods. You can do just one, two, or all three.
The basic methods are:
Affiliate Marketing
Product Creation
Selling Advertising Space
These three methods are the basis of what all money making methods are derived from. If you can master one of these, you're well on your way to earning some nice income blogging. Let's break them down.
Affiliate Marketing
If you have a blog of readers who are interested in a certain subject, there's a good chance they will buy products about that subject. Let's say your blog is all about dog training and your site is full of awesome tips and info about how to train dogs to do certain things. These people will probably be interested in purchasing things like guides to training dogs on various activities. Doing a quick search on Clickbank, I found 2 great dog training products. One pays about 25 bucks and the other is $12. If you've got these targeted visitors on your website, why not put a product in front of them that they're probably interested in. The great thing about digital products from sites like Clickbank is that there's no shipping or anything to worry about. Once the visitor clicks on your affiliate link, it's all up to the people at Clickbank to take care of the rest of the process. Affiliate marketing is one of the easiest ways to get started making money from your blog. The only thing you need is the targeted traffic, which you should have if you've got a great blog that your readers love.
Product Creation
This method is a little more advanced and for when you know what your customers want. This is when you create your own product to sell on your blog. There are a couple of solid benefits to this. With the product being your own, instead of getting paid a percentage of the sale, you get the whole sale price. You also have control over exactly what goes into the product and how the sales page looks. This can also be a bad thing if you don't know exactly what to sell your site visitors. You don't want to go through the entire process of creating a whole product that nobody wants to buy. That's why a good strategy is to use affiliate marketing to get an idea of what is selling good and what people really want. Once you have analyzed your affiliate sales, you can take the things your visitors want most, and compile the perfect product for your visitors.
Another thing you have to remember about product creation is that the process is much more difficult and time consuming that posting a couple of affiliate links on your blog. You have to create the product, write the sales copy for the landing page, set up an auto responder, have some sort of script to sell the product (or use PayPal), handle any customer service issues, and much more. This is why there are sometimes whole teams of people involved in creating products that sell well on Clickbank and generate massive amounts of money. If you want a script that will allow you to sell your product and offer affiliates the ability to sell it also, I recommend 7dollarsecrets. It only costs $7 and it's fairly simple to set up. Product creation is definitely a more advance method, but if you are willing to put in the work it can be done.
Selling Advertising Space
This is another simple way to generate revenue from a blog. The amount you can make from selling ad space is only limited by your blog itself. This means the better your blog, (more traffic, more readers, more content) the more money you can charge for ads on your site. You can sell banner ads, text links, or what ever you want. If you have a great blog, people in your niche will want ad space on it. Selling ads also includes programs like Adsense and Kontra, but you can also sell directly to individuals. The first thing to do is to put a link that says something along the lines of "your ad here" on your page and create a page for potential advertisers to contact you. Once they send you an email, you can then negotiate the price of the ads they want to buy.
Another way to find potential advertising clients is through webmaster communities where you can find site owners of all kinds of sites. Some webmaster forums are:
There's plenty of webmaster communities out there. A simple Google search will help you find them all.
What are some of the best ways you know of to make money from blogging? Share your ideas in the comments below.
Author Bio: This is a guest post by Alan Rosinski who offers a web design service at www.animatedwebservices.com Visit today for a free quote and mention this post for a special discount on custom web design. Follow him on Twitter.