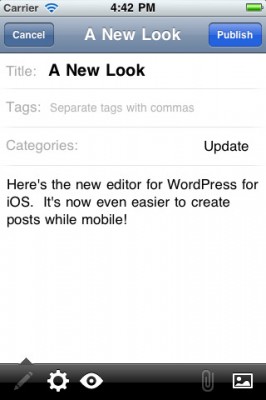 WordPress has released a new update to their universal iOS app which sports not only a slicker layout, but also seems to have resolved most of the bugs from the previous version.
Simply select the icons along the bottom of the post editor to edit post settings, view attachments and add media. You can also now upload multiple media objects at once!

'Pull to refresh' has been added to the list views of the app. To refresh the list, simply pull down until the arrow flips around and then release[.] (WordPress for iOS)
One of my favorite features is the ability to email commenters from within the app, which makes it easier to reply to readers privately without having to log into your blog via mobile Safari.
As a bonus WordPress has "magically" (to borrow a phrase from Steve Jobs) reduced the amount of time uploading videos to a blog, and has even made it easy to cancel videos uploading midway by tapping upon the clip.
Note: Bug resolved. See update below.
The only "critical" bug I discovered while using the app was the fact that WordPress seems to enjoy silencing my music (even upon third party apps like Pandora) whenever I launch WordPress for iOS. 🙁
Music silencing aside, the latest update should resolve most of the issues for WordPress fans (especially those using "unlimited hosting" plans), and is available for free upon the app store.
Update: Apparently the bug (which was also replicated within other apps ironically) dissappeared after syncing my iPhone with iTunes.
Author:
Darnell Clayton
Darnell Clayton is a geek who discovered blogging long before he heard of the word "blog" (he called them "web journals" then). When he is not tweeting, Facebooking, or blogging about space and his beloved iPhone, he enjoys running, reading and describing himself in third person.