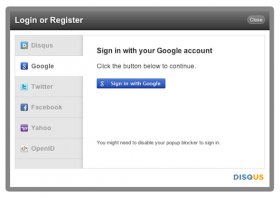 In an attempt to help broaden their appeal amongst bloggers and news organizations, Disqus has announced that they are now including the search engine giant as an ID option for commenters.
Nearly 13% of users choose to login through Twitter or Facebook when participating in Disqus communities. Today, we're happy to introduce another recognizable choice: Google accounts. Millions upon millions of people are already logged into their Google accounts, and now they can easily use those accounts to jump into discussions all over the web. (Official Disqus Blog)
While embracing Google was probably long overdue, it looks like Disqus has "bumped down" Facebook's position as a choice for commentors, as the option use to be higher up in the past (at least via their pop up option).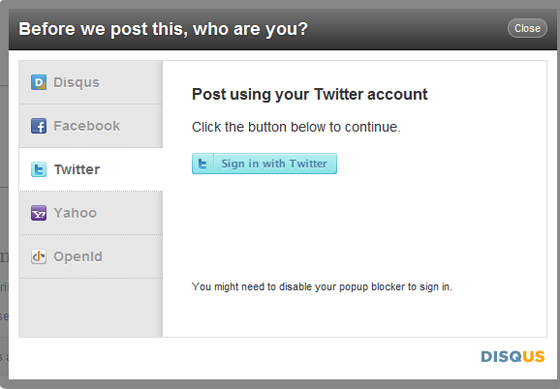 Disqus's demotion could be a response towards Facebook's re-entrance into the commenting wars, as the social giant's commenting feature is being embraced by notable bloggers as well as news organizations.
The Google ID option should already be live for bloggers who use Disqus to power their comment sections, and may help encourage readers wary of social networks to easily share their thoughts upon posts without having to waste time registering with your site or typing in extra details.
Author: Darnell Clayton
Darnell Clayton is a geek who discovered blogging long before he heard of the word "blog" (he called them "web journals" then). When he is not tweeting, Facebooking, or blogging about space and his beloved iPhone, he enjoys running, reading and describing himself in third person.