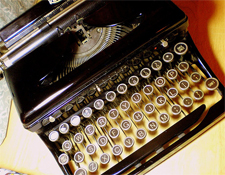 So your book is published and now what? Do you sit back and let the book sell itself? In a recent interview with Brad Grochowski from the Indie Book Man show, I mentioned that my book, 'Day of Revenge' was not getting much exposure on Amazon. What I really meant to say is the marketing of your book does not stop once it is listed on Amazon. Unfortunately, Amazon does not have a marketing team that will market books. It is up to you to market your own book.
In a world where the internet dictates our professional and personal lives, a presence on the web is very critical. It is the only way to market your book abroad without having to travel from place to place to sell your book. The question is, where do you start? The best way to start is to set up a blog. Having a blog gives you a platform to promote yourself and your brand which is your book. A blog is a place where people can find out about your book and where it is available for purchase.
You shouldn't wait until your book is published to start a blog. Blogs are a very inexpensive way to get the word out about your book. When you set up a blog, choose a title that is catchy and a template that is simple in design and reader friendly. Keep your blog professional looking and avoid templates that feature bright colors. When posting, write to engage, inform, entertain, write well and write often. Make your words conversational as if you are speaking directly to a friend.
Readers want to learn about you, your book, and about your ongoing efforts to promote it. Post an excerpt or two from your book, but only post enough to whet readers' appetites. Always include good reviews and links to sites where readers can purchase it. If they want to read the book, they will purchase it. When you secure a radio interview or a signing at a bookstore, blog about it. If you post enthralling, well-written content on a regular basis, chances are readers will return to your blog to read more of your content.
Now that your blog is rich with quality content and you have a small, but loyal following of readers, it is time to build your readership. In the literary industry, exposure is as important as content. A large readership will stimulate book sales and possibly land you a contract with a literary agent or major publisher. This is where you have to do your research.
Guest blogging is the best method of gaining massive exposure. Research book bloggers who review books and interview authors. Read through their blogs and make sure that their genres of interest matches the genre of your book. Comment on one or two of their posts. Email them, introduce yourself, provide a synopsis of your book and include a link to your website or blog within the body of the email. Always have a book on hand in case one or two of those bloggers express an interest in your book.
You may also want to blog about a topic that you are passionate about but you would like to blog about it on another person's blog. There are many bloggers on the worldwide web who are actively seeking guest bloggers to post on their sites. My Blog Guest is a great online community to join if you are seeking guest posting opportunities. Owned and operated by Ann Smarty, a well-established blogger and social media expert, My Blog Guest is the place to connect with professionals and to build long-lasting business relationships.
If you want to get really creative, start a blog chain. The goal of a blog chain is for bloggers to write about a selected theme on their own blog. Generally, bloggers post a link to every participant's blog on their blog. The goal of a blog chain is to discover new blogs, comment on other blogs, build friendships and build your readership. I discovered the wonderful idea of a blog chain on the Absolute Write Forum and have participated in one almost every month. They are a lot of fun and I know that it has been instrumental in boosting traffic to my blog. You don't have to be a member of the Absolute Write forum to start a blog chain. You can start one on any forum that you belong to.
Building your web presence does not happen overnight. It takes hard work, perseverance and time to build your readership. However, there are professionals who are more than willing to lend you a helping hand. You just have to find them and connect with them.
Deanna Proach is the author of the historical fiction book, 'Day of Revenge', released by Inkwater Press. She currently resides in Sechelt, British Columbia where she is writing and acting.