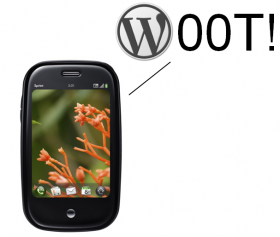 WordPress fans sporting a Palm Pre 2 will be pleased to hear that we may see an app courting webOS in the not so distant future!
Upon visiting webOS.wordpress.org, WordPress fans are greeted with this message:
The blog http://webos.wordpress.org was marked private by its owner. If you were invited to view this blog, please log in below. For more information about blog privacy settings, please visit our support site.
This is the nearly the same message that appeared when WordPress was working upon Windows Phone 7, Nokia and Android before launching them to the public.
Although there are blogging apps upon webOS, most (if not all) of them are from third party developers as the mobile OS has been ignored by all of the major blogging platforms until now.
By courting webOS, WordPress will extend its influence upon every major mobile OS save Bada (from Samsung), helping to strengthen their position as the dominant mobile platform (at least when it comes to blogging upon a smartphone).
WordPress has yet to reveal any details regarding their webOS app, although for those of you sporting the Palm Pre 2 what features would you like to see included within the app?
Author:
Darnell Clayton
Darnell Clayton is a geek who discovered blogging long before he heard of the word "blog" (he called them "web journals" then). When he is not tweeting, Facebooking, or blogging about space and his beloved iPhone, he enjoys running, reading and describing himself in third person.