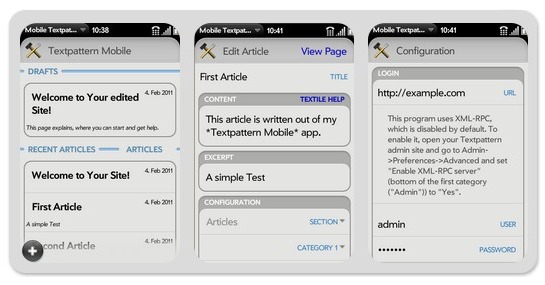 After watching rivals platforms receive official apps upon various smartphones, fans of Textpattern (which is a blog/CMS software similar to WordPress) have been demanding an app to use while on the go. [edit]
Now it appears a company has created an app for the Textpattern tribe, although fans might be disappointed over which platform was chosen.
Mobile Textpattern is your Textpattern client app. Create new articles, edit existing ones and store them on your device as draft. Ideal if you want to save your ideas for new articles or extend existing articles with more informations. (Mobile Textpattern for webOS)
Although webOS isn't as popular as iOS or Android, the mobile platform has been neglected by most blog platforms (although that might change once WordPress releases their webOS app).
Mobile Textpattern is priced at $0.99 and seems to be limited to basic blog functions only (i.e. create and edit posts), with no mention of additional features such as uploading videos as well as images.
Hopefully Mobile Textpattern's entrance will inspire developers to create third party apps upon other platforms in the near future, although for now webOS fans can acquire a taste of mobile blogging without logging in from their Palm Pre's.
Author:
Darnell Clayton
Darnell Clayton is a geek who discovered blogging long before he heard of the word "blog" (he called them "web journals" then). When he is not tweeting, Facebooking, or blogging about space and his beloved iPhone, he enjoys running, reading and describing himself in third person.