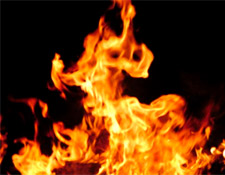 Have you ever been curious how some blogs are able to get 300-400 comments on a single post?
Well, I intend to illustrate how one blog just recently caused a big scene getting reactions from all over the blogosphere, and then follow that with some suggestions on what you can do to perhaps approach it in a more controlled manner.
Here's the 10 things that I saw as being part of the fuel behind what made Fred Wilson's post get his audience fired up.  Fred's thoughts on marketing struck a chord by saying only crappy products need marketing.
You can see from the volume of comments, and the reaction posts like this great post from SEOmoz's Rand Fishkin that people were fired up.  Let us see if we can't identify the top 10 things that caused what seemed at the time, a blogging riot.
1. Started the post off with – "You asked for it" and then added what the topic was going to be about.
2. Next sentence stated an opinion while adding words like "sucks,"  "crazy,"  etc.
3. Named people individually, almost to call them out.
4. After publishing the post, disappear for a minimum of 4-6 hours.
5. Selected a group of people who are always online.
6. Respond in other blogs before going back and putting out the fire on your own.
7. Put together your reaction into a new blog post with an explanation.
8. Blame it on a semantics issue.
9. More content for you, just cite reaction posts and add your .02.
10. When its a heated topic expect heated comments.
Perhaps if you find such a post is too confrontational or your audience wouldn't tolerate it, then how can you build up towards this type of discussion.  Here's a few things to keep in mind in building a good foundation for your blog.
A good foundation should have the following 3 things covered, at a minimum.  After that you can look for ways to create discussion.
Get Your Audience To Like You
If you haven't shared details about who you are and where you're from then it's going to be hard for others to get to know you.
Give some thought to creating posts that share a bit about you, perhaps you and your audience shares some things in common, that will help people relate and open up.
In Hollywood, there is a lot of work that gets put into developing the characters for the movies so think about how we get attached to someone in a movie, it's because they've given us the backstory.
Have you ever written some of your backstory into your blog, if not, how would you expect people to get to  know you, let alone like you?
Put Passion Into Everything
Ever seen Gary Vaynerchuk speak?  How about Eminem at the last Grammy Awards Show?
We can see their passion is layers deep, practically weaved into their DNA.
So not only do we need to be liked, but we need our words to perform with passion so others can feel it and we need those words to be put together just right.
Storytelling Sets The Stage
Good storytelling is powerful.  If you've done a good job on your backstory, and you frequently post and your audience frequently comments, then you're well on your way.
People love to here good stories, ones that have lots of details and share insight on a given subject.  Try to draw your audience in closer, and share a few of your favorite moments in blogging to get them fired up about something they could share.
Then after you've built a solid reputation, mix things up like Fred did if you feel strongly about something, but be sure that when you do this it's not for the purpose of drawing attention because then you will have diluted the quality and abused the trust of your audience.
Finally, blogging isn't like the media that is notorious for focusing on the negative stories.  Blogging at its best is producing something you feel will enlighten and educate someone in hopes they'll produce something of similar quality in return.
Guest Bio: Scott Golembiewski is the Founder / CEO of TuneyFish Inc. which helps businesses understand social media by setting up blogs for car dealers to connect with customers.