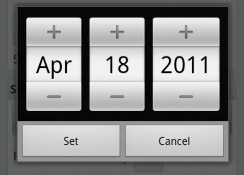 Android lovers will be pleased to hear that their beloved WordPress app has finally added features long enjoyed by your iOS and Blackberry brethren.
You can now easily set the publish date and time in the app when creating a post or page. The date can be set to the future which will set the post status to 'Scheduled' and publish on your blog when the time arrives. […]

At the bottom of the post editor we've added a Post Password field to help protect your content. Simply enter a password here and the post will require that the password be entered for viewing on the blog when published. (WordPress for Android)
The Android app also supports HTTP Authentication for self hosted blogs, which means WordPress fans no longer have to choose between mobile blogging an tighter security via select plugins.
Unfortunately for those of you who have installed the app from Amazon's App store, this update is not yet available (it's awaiting approval from Amazon's app tribunal).
However fans of Amazon's app store can always install a fresh copy from Android Market (which might be wiser in the future, especially if WordPress releases a security update).
Author:
Darnell Clayton
Darnell Clayton is a geek who discovered blogging long before he heard of the word "blog" (he called them "web journals" then). When he is not tweeting, Facebooking, or blogging about space and his beloved iPhone, he enjoys running, reading and describing himself in third person.