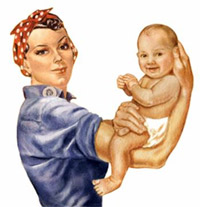 Love 'em or hate 'em, mommy bloggers are the undisputed queens of the blogosphere. Their ability to network, market, monetize, and gain an enormous following is almost baffling. While many mommy blogs have turned into shameless, content-lacking promotional tools, there is no disputing the fact that they must be doing something right to get where some of them are now. Even if you find yourself slightly nauseated by the ubiquity of this particular blogging niche, you may be well-advised to put away your repugnance for a just a little bit and think about how we can all take a leaf out of their book. Here are a few considerations…
1. Mommy bloggers understand the power of networking both on and offline.
As noted in a somewhat sarcastic article published in the New York Times last year, mommy bloggers are a social bunch. But they don't just confine their socializing and networking to the strictures of the Internet. While you may not do a cross-country tour of blogging conferences, it may be a good idea to check out such gatherings that focus on your particular niche. You can get wind of these conferences on several places throughout the Internet. One of my favorite tools to meet people with like-minded interests in local areas is MeetUp.com.
2. Nothing invokes more passion than something like parenting. Blog about what moves you.  As anyone who is a parent knows, having and raising children completely changes your perspective on life. These life-altering moments thus understandably give mommy bloggers so much passionate fuel for their blogging fire. As such, we non-mommy bloggers can follow their lead and stick to blogging only about that which inspires us, as well as blogging on topics that we know about intimately from first-hand experience.
3. There is such a thing as taking ads and products too far, but don't shy away from them either.  Again, as noted in the NYT article, some mommy bloggers have completely strayed from their parenting roots and have taken up the ad and product review bonanza, stating: "Just as companies like Tupperware saw the untapped sales potential in the old-school kaffeeklatsch, advertisers have now set their sights on mommy blogs, recognizing that anywhere women's eyes go in huge numbers especially anywhere they might be discussing the products they use is prime real estate."
While some may see this trend as distasteful, at the same time no one should be ashamed of trying to make some money from their efforts. While our Open Source culture sometimes looks down on the practice, we should be compensated for the quality work that we do, even if it isn't very much.
4. Be inspired by the fact that it is possible to work at home (at least part-time) with the Internet. Abbreviated as SAHMs, "stay at home moms" have turned blogging into a way to be with involved with their children at home while still pursuing some sort of career or interest. As much flak as mommy blogs get, this is a powerful thing, especially for women, as noted in a 2010 Forbes article.  We bloggers should take heart that we can turn blogging, something that is usually thought of as a hobby, into a possible means of livelihood, even if only partial.
5. Obviously, don't copy the dark side of mommy blogging.  Just as with all thing on the Internet, there are two (or more) sides to every story. Mommy blogs are interesting and inspiring in their own right, but of course we don't want to go to extremes in anything. Two common complaints launched against mommy blogs are the already mentioned shameless plugging, as well as the fact that they can be overly-confessional, solipsistic, and "simpering" as one NYT commentator noted. As always, let's learn from the good and stay away from the bad.
What do you think? Is there something to be learned from mommy bloggers?