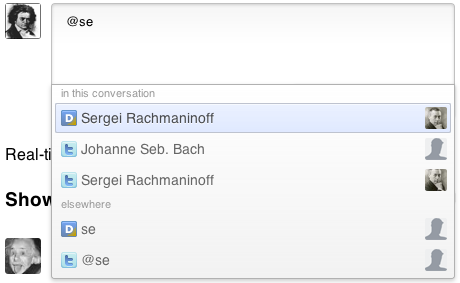 Taking a cue from Facebook, Disqus has rolled out @Mentions which may not only help increase the number of quality comments upon one's blog, but help bloggers reach new users as well.
Before @mentions, commenting threads were an island. There wasn't a way to reach out to people who weren't already participating. Now with @mentions, you can call out your friends or friendly social media gurus, and get them involved in the conversation.

To begin using @mentions, just type the @ symbol and then continue typing the name of the person you'd like to mention. As you type you will see a drop down list of suggested users to choose from. The drop down is smart; it will update with increasingly accurate suggestions the further you type. (Official Disqus Blog)
This is a smart move by Disqus, as it gives bloggers a reason to choose them over rivals like Facebook comments (the latter who has been unable to secure a partnership with Twitter).
What would make this feature even better is if Disqus could somehow partner with the folks at Tumblr to roll out something similar (perhaps by alerting authors via the message board?) for the micro blogs 18 million plus fans.
While its doubtful Disqus would be able to integrate @Mentions for Facebook users (for obvious reasions), Disqus could try to reach out to other social networks or even various chat platforms like Skype or AIM.
The only drawback to @Mentions is that it can also be used by trolls to harass people in various "shout outs" to their posts, although hopefully Disqus comes up with a quick way to silence @Mentions from users who feel they're being harassed.
Do you use Disqus? If so, what do you think about the companies latest feature? Also, what social networks or blogging sites would you want Disqus to include within @Mentions?
Author: Darnell Clayton
Darnell Clayton is a geek who discovered blogging long before he heard of the word "blog" (he called them "web journals" then). When he is not tweeting, Facebooking, or blogging about space and his beloved iPhone, he enjoys running, reading and describing himself in third person.