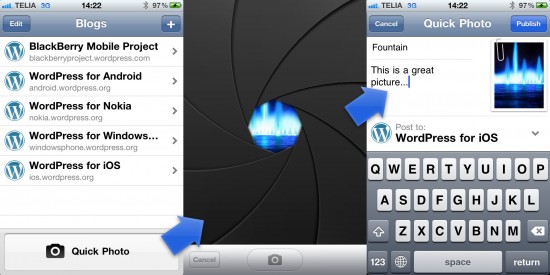 After many months of waiting, WordPress has finally blessed iOS fans with features that have long been enjoyed by Android, Nokia and Blackberry fans.
While the inclusion of WP.com stats will please data geeks (which requires JetPack or the WP.com Stats plugin), photo bloggers will love quick photo which is even easier than Tumblr's iPhone app.
As you launch the app, you'll notice there's now a button in the bottom of your blogs list. Tap it to launch the camera and take a picture, when you're satisfied you can add a title or a description (if you want, both are optional), and boom – you're done! (WordPress for iOS)
It takes only 4 quick taps (from launch to publish) to send a photo to your blog compared to Tumblr's 6 taps (7 if you start within the dashboard).
For those of you with WordPress Tumblogs, you will be glad to hear that the team is also planning on supporting post formats in the future, although there is no time table as when that will appear (as WordPress has to implement a core patch in order correctly assign the image post format).
Hopefully WordPress will consider other media formats such as video, quotes and audio files (note: perhaps changing between them by sliding the "quick photo" button to the side?), as their mobile apps could help WordPress regain some lost ground against Tumblr.
Author:
Darnell Clayton
Darnell Clayton is a geek who discovered blogging long before he heard of the word "blog" (he called them "web journals" then). When he is not tweeting, Facebooking, or blogging about space and his beloved iPhone, he enjoys running, reading and describing himself in third person.