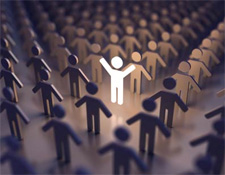 Starting a business online is a fairly easy task. Anybody can do it. Yet on the other hand, maintaining and growing a company to become successful is a completely different story. You need dedication, hard work, long hours, and plenty of contacts. Take a look at Neil Patel. Because of his hard work and dedication during high school, he was hired as a consultant before he even graduated. He is now the founder of two companies, Crazy Egg and KISSMetrics, both of which focus on promotion and search engine optimization for websites, and owns a blog, Online Poker Lowdown, which is focused on helping everyday people learn about online poker strategy. Technorati has since named him one of the Top 100 influential bloggers and the Wall Street Journal has tagged him as one of the most impactful people online.
You're probably wondering how you can integrate yourself into this community of successful and wealthy online entrepreneurs. Before you jump into starting up this business, there are several steps to take to make sure you are ready.
1. Find Your Niche
Being successful means being different. If you have an idea for a company or website, look it up first to make sure someone isn't already ahead of you. If they have, don't be discouraged. Take a look around their website and see how they are going about your same idea. You might find a flaw or something that you could do differently that would make your company stand out against the competition.
2. Get Your Name Out There
Networking is one of the greatest steps you can take to get into the online marketing industry. There are tens of thousands of people in this industry who would love to talk about their successes and current projects and any other information you ask of them. All you have to do is find them.
Most professional organizations have chapters all over the United States, and some even internationally. These groups were formed to create a network of individuals in similar fields, so getting your name into that network will help you not only find contacts, but maintain them as well, not to mention finding opportunities you wouldn't have found otherwise if you hadn't introduced yourself to those people.
3. Get In the Know
You can't become successful as an online entrepreneur if you don't know anything about the industry. There are so many small facets of this industry, with so many different terminologies, that it is going to take some time to fully grasp what it all means. Take your time in doing research, especially learning about search engine optimization (SEO) and pay per click (PPC) advertising.
4. Monitor Your Time & Money
If you are a paid blogger for multiple sites, it can be difficult to keep track of the money you are making from multiple sources, especially whether the effort you're putting out is producing enough money for you.
Keep a running log of how much you get paid, and by whom. If you feel that you aren't being paid enough for your time, then that log should be an indication as to whether you can make that cut.
If you have acknowledged that these steps have already been taken on your path to becoming an online entrepreneur, then you are ready to kickstart that company. Remember that it may take some time to build your company up to be successful, but with a little patience, you, too, can transform yourself into a successful online entrepreneur.