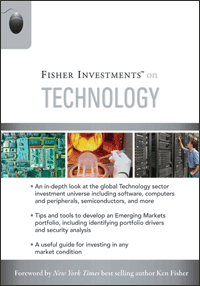 With the continued rise of the internet as a marketing, advertising, and commercial force, many entrepreneurs – both the seasoned ones and the more recent ones – have personally grown in wealth.  More than that, they are looking at taking the plunge and becoming investors themselves. For example, people such as Jason Calacanis, of  Mahalo and Weblogs Inc. fame, started mainly as writers. Jason was a journalist with Silicon Alley Reporter. Brian Clark of Copyblogger fame has the core of his business revolving around writing. Jason now is a prolific (angel) investor, while Brian occasionally invests in smaller, but not less successful, projects.
An important factor in making the jump, as with everything, is to be well-informed and to have a great sidekick. Fisher Investments is a money management company founded by multi NYT-bestseller author Ken Fisher.  This group is a great partner in learning about investing, receiving investment advice, and management. With its great series 'Fisher Investments On', the Woodbridge money management company led by the author of The Ten Roads to Riches, several books are offered, each tackling specific markets such as technology, energy, and utilities. These books are great at giving their readers a first introduction in to the specific markets, as well as providing the possible future investors with frameworks to make analyzing opportunities and investments more successful.
Ken Fisher Investments now manages billions in both Institutional and Private sectors, and a partnership with him and his team can only bring benefits to any blogger who is aiming to go further with his finances. While some may have an inborn propensity for investing and similar activities, not everyone can succeed in this area without some sort of guidance. After all, we can't expect everyone to become just like Jason, Brian, and the rest! For sure, they are brilliant individuals, but for all we know, their success in investing in projects may be attributed to external forces – say, advise from people such as Ken Fisher.
Blogging may be your main activity right now, but who is to say that you won't want to become a recognized entrepreneur on your own right in the future? If that is the path that you are aiming to take, the smart move is to begin right now by arming yourself with the right information and by taking advice from those who know best.  Dreaming does not cost you a thing, they say, but I say it is better to do something about that dream and reap the rewards sooner than later!