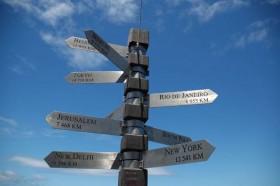 As we talked about a few weeks ago, every time a visitor comes to your blog, they have expectations of your site that, if you fail to meet, could cause them to go away and forget about you almost instantly. All of the SEO and content generation efforts mean nothing if you can't retain a decent number of your visitors.
The problem is that, though most bloggers carry those same expectations when visiting other sites, they simply don't look at their work with the same level of objectivity and, as a result, often times forget to add key elements to their sites that keep visitors coming back.
But in addition to having the standard things like predictable navigation and a lack of distractions, there's also certain content that you need to have on your site. These are pages that, while you might initially overlook them, can become incredibly important to new visitors who are trying to learn about you and your site.
So, if you don't want your visitors to leave confused and disgusted, here's what you need to make sure your site has.
The Pitfall
It's important to remember that, when most visitors land on your site, they are doing so from a search result or a link. When they arrive at your site, they don't know you, they don't know your site and they don't know where they are. In fact, there's a good chance that your site and even the post they landed on is only indirectly related to what they were expecting or looking for.
Still, every visitor to your site is a chance to hook someone in and earn a repeat visitor. But while your content is what piques their interest, you have to have a well-rounded site to keep them clicking on links and, eventually, bookmarking, subscribing or otherwise becoming a member of your community.
Basically, if you don't have the content your visitors want and need, it doesn't matter how good your SEO is or how great your content is, visitors aren't likely to come back for a second or third bite at the apple.
Instead, you have to be able to lure them in with good promotion, impress them with good content and then keep them by giving them what they want to know. Without the third step, the first two often go to waste.
So what are visitors looking for? You can likely glean much of that information from your surfing habits, but here are 5 pages your site definitely should have in order to keep the visitors you worked so hard to earn.
How to Avoid it
In order to avoid this pitfall, you need to make sure that you have all of the content your visitors want and expect of you. Fortunately, the actual amount you have to write, especially when stacked up to just a few weeks of blogging, is fairly minimal.
It's important to note that every blog is going to be somewhat different in the added content it needs to provide. Some will need a call to action page, for example, where others won't. However, there are a few pages that are a good idea for pretty much all blogs and those include the following:
About Page: This one is fairly straightforward but almost every blog needs an about page. When I come to your site, I don't know you, I don't know what your site is about and I don't know why I should care. The about page is supposed to explain all three things. It might not be highly-trafficked but those who do visit it are clearly very interested.
Keystone Content: Keystone content is static content that is evergreen and lives outside your regular blog. It should be central to your blog's theme and something that almost every visitor would be likely interested in. For example, a fitness blog might want to have a guide on basic exercises and a cooking blog might want to have definitions of commonly used terms. Basically, this is content to bookmark, not subscribe to.
Archives: Nothing is more frustrating to visitor and blogger alike than a visitor who wants to read more of the site but can't easily find out where. Have a link to your archives in a predictable place and encourage readers to access it if they like your material, they might spend a lot of time clicking around.
Social Media/Other Sites: Every visitor is going to leave your site but where are they going to go? If they want to see more of what you do, make sure they have access to your relevant social media profiles and any other sites you write for. This ay not always require a separate page itself, but rather a sidebar element, but is often better broken out if there are many different such destinations to chose from.
Contact: If a visitor wants to get in touch with you, whether to pay a compliment, talk business or just ask a question, how can they do so? Offering a good contact page, ideally with a form, encourages good communication and helps create a personal connection with your visitors.
What you do with these pages is, of course, up to you. Though most about pages should include a photo if possible, for the most part these pages should be as unique as your site is.
As long as they meet the criteria these pages were meant to fulfill, these pages can be as much an expression of your creativity as the rest of your blog.
Bottom Line
These pages don't have to be mundane, but they do have to be present. Otherwise, you are almost certainly turning visitors away inadvertently.
It's important to remember that your site is more than just a place where you post your thoughts, it's a reflection of you and your work. To be able to do that, especially for visitors who know nothing about you, your site needs to provide access to the information they need to understand exactly that.
Fortunately, the actual time and energy required to set up and maintain these pages is minimal, especially when compared to the rest of your blog. However, if you fail to do it, the rest of that work could be wasted on visitors that never return.