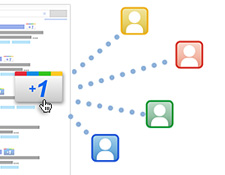 Since Facebook launched their iconic "Like" button last year, they brought about the dawn of the modern social plugin. Visit most blogs and article sites and you will see a virtual minefield of buttons to social networks and bookmarking sites that offer you a myriad of ways to promote the author's work to the world.
In 2011 both Google and Facebook have announced the imminent launch of a shiny new button that you can add to your website or blog that people can use to tell all of their friends about your site. In the Google corner we have +1, a button that is set to evolve into something that mirrors Facebook's hugely successful Like button. In the Facebook corner we have another new button, "Send", bringing in a standard button with which you can click and send a link to the website or blog to specific friends who will be interested in a particular subject.
Throw in all the other buttons for Twitter, as well as those for the likes of Reddit and Delicious and you could soon end up with more plugins that text. So what should you keep, what should you install and what should you ditch? Let's take a look at all of the pretenders and see which plugins will be best for bloggers.
+1 and Like
These two are set to be the two big guns that will go head to head, and with Facebook getting a year's head start on their arch rival Google, the Like button is the one to beat. Boasting visibility to everyone in your network of friends, the Like button has quickly become a favourite for bloggers and webmasters who want to raise the profile of their website, blog or article.
+1 has yet to be launched and initially this will give recommendations to your Google contacts via the search engine results page and is another step on Google's road of integrating search with social. Although Google are only saying that it will be a button attached to the search results page at the moment, expect to see a Like button style rollout across websites and individual articles in the months after its launch.
Verdict
Facebook have a huge head start and on the face of it this looks like an easy win for the Like button. But never write off the competitiveness and ingenuity of Google and when the +1 button launches it could prove to be just as important for sharing information as the Like button. Google also have the added weapon of their search engine and you can never rule out its future importance as a ranking factor. You will need both of these buttons on your blog.
Send

While the previous two buttons send out general information to a wide range of people, the send button will put a link to your website in the hands of people who will really want the information you have to offer. It will give you the opportunity to send much more targeted traffic to your website so when people use it, they will be sending your information directly to people who they know will be interested in what you have to offer.
In principal it is a very simple idea, but given the huge scope of Facebook it has the opportunity to drive very targeted traffic towards your blog.
Verdict
This is the natural partner to the Like button and when it launches it promises to be an extremely powerful tool for driving targeted traffic to a website or blog. Traffic is nothing without relevancy, and this button will help to send you more of the people who you are looking to target. Take your button count up to three, you are going to need this one.

The Best of the Rest
Could this be the end for Twitter? In an area that has been very much their niche over the last few years, they are being squeezed on all sides by new plugins that look set to steal their crown.
Twitter does still have a huge following however and as long as people are using it and following each other, Tweets will still be an important way of driving traffic, so don't jettison the Twitter plugin just yet.
The social bookmarks look set to be the victims of the dominance of the three big players as people continue to turn away from this means of sharing information. Digg just doesn't have the effect that it used to while there is still uncertainty about the future of Delicious in the wake of its recent sale to the founders of You Tube.

Verdict
These bookmarking sites still have active communities so may still be applicable in some niches, but in general it looks like these are the buttons that should be scrapped once the big guns unveil their new buttons. Twitter are under increasing pressure to up their game if they are to compete once the market changes, but don't go taking your Tweet button away just yet as its huge following still offers lucrative traffic potential.
A blog that is cluttered with social plugins could do more harm than good to the overall appearance of your site, so with the arrival of even more buttons, now might be a good time for an on-site spring clean. Not all blogs are the same, so pick the social plugins that will have the most relevancy to your niche in order to send the most relevant, targeted traffic your way. We're still researching which to use on my business gifts blog.

Guest Bio: Alan Grainger is an in-house B2B web marketer and manages the SEO for Business Gifts Co, a leading UK specialist in the business gifts sector. He writes articles exploring the issues faced by the B2B web marketer, giving an "in the trenches" view from an in-house SEO department.