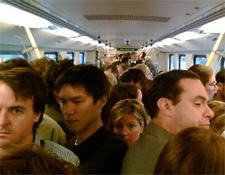 Thinking of using guest bloggers to diversify the content on your site? Find out how many guest bloggers is too many.
For most bloggers, accepting guest posts has a dual purpose.  In the short term, guest blogging affords bloggers a much-needed break from their writing schedule, while allowing divergent opinions that can get a conversation going (or keep an existing one alive).  In the long term, guest blogging allows bloggers to build relationships with other writers and industry professionals who may be valuable connections at a later time.
It goes without saying that there are also multiple benefits for the guest blogger.  At the very least, guest bloggers receive exposure for themselves, their product or service.  In many cases, the guest blogger can receive a backlink for their website (which is good for SEO) or even financial remuneration.   Nevertheless, there is an overabundance of writers who are looking for a platform, and a smaller number of quality blogs willing to accept guest posts.
Understood in this light, it looks like with guest blogging, everybody wins.  However, this scenario fails to consider the third partner in the blogging triumvirate – the reader.  Readers become ardent blog followers because they appreciate the humor, intellectualism or point of view of a specific writer (or group of writers).  Bloggers who allow guest posts may be widening the horizons of their blog – but just as likely, they may be detracting from the purity of purpose that the blog espouses, and alienating their loyal readers.  So what's a blogger to do?
I'd like to suggest that the middle ground between satisfying the desires of the reader and the desire of the blogger is to limit the number of guest posts permitted on your blog.  While there may not be a golden number of guest posts that are permissible without disturbing the balance of the blog, there are several things to consider:
–          The number of guest posts accepted should be relative to the frequency of posting by the lead blogger(s). If, for example, you post on your blog daily, it may be fine to feature a guest blogger once a week or every other week, which would be a small percentage of the posts.  If, however, you only post weekly, replacing your regular post with a different guest post each month could truly disrupt the flow of thoughts.
–          Rules are made to be broken. I firmly believe what I stated in the point above, but blogging is an art, not a science.  If a truly fantastic opportunity guest blogging opportunity itself, there should always be room to bend the rules.  After all, one outstanding guest post may be able to pull in many new readers for your blog.
–          Don't overlook the importance of editing. You may want to make nice with a guest blogger, but at the end of the day, the blog is yours, and you should make sure to maintain a similar tone and quality of your content.  I work closely with many Forex brokers, for example, who are brilliant when it comes to financial analysis, but aren't often eloquent when it comes to expressing their ideas.  With a few tweaks, however, these submissions can make truly excellent guest posts.  Your readers will lose interest quickly if they find that you accept posts from people whose posts aren't easy or enjoyable to read.
–          Consider a series of guest posts. It may sound counterintuitive to allow multiple guest posts from the same author when you're trying to avoid an excess of guest posts, but it may be that offering a guest blogger a series of posts will help your readers feel more comfortable with the guest blogger, and it may even stimulate a wider conversation on your blog.
Being selective about guest blogs is a great way to maintain the integrity of your blog while building relationships with excellent professionals in your field.  Though some guest bloggers may be upset by rejection, being choosy on your blog will assign more value to the guest posts that you do accept.  With this in mind, hopefully you can find the perfect balance for your blog.
Guest Bio: Sari Holtz is the optimization manager for DailyForex.com, a website that offers up to date information about Forex brokers, financial analyses and economic news.  She manages multiple blogs and has learned about guest blogging mostly through trial and error.