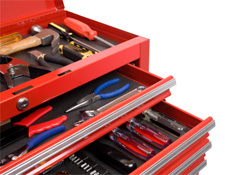 Let's talk about a topic that most SEO's have in common – SEO tools. There are plenty out there that you can use to guide you during your SEO campaign and everyone has their own preference when deciding what to use, depending on what kind of results they want to achieve. Here's a list of some of my favorites as they have yielded the best results for me at my seo company in South Africa.
Buzzstream
After trying a number of methods to keep track of link building efforts, with all the emails, link partners, linking prospects and more, I found a great tool called Buzzstream. In Buzzstream, all information about a link partner is recorded which means it's as simple as bookmarking a site for future reference. All the details about a possible link partner will be saved, from email addresses and pages you want to link from to domain page rankings and loads of other stats. When adding them, you can specify what kind of link you are trying to get on that particular site as well, making it even easier to manage when the time comes to request these links. A must for any link builder!
Webmaster Tools
Webmaster Tools is maybe one of the longest lasting and most vital tools around. Not only does it give you the best advice when doing onsite optimization for your website, it will also show you different aspects of the site, including where you have duplicate title tags and Meta descriptions. While these are probably the simplest things to use Webmaster Tools for, other more complex things like malware and 500 server errors are also viewable from here.
Open Site Explorer
Open Site Explorer is a great tool to use when trying to find out who your competition is in your specific industry. It will give you some info about the site, including where they are getting links from, as well as domain authority, page authority, domains linking to that site and the total amount of links coming in. From here, you can quickly see who the heavy hitters are in the game and what they've done to get to where they are.
Co-Citation Tools
Co-Citation is a measure used to determine the similarity between two items. In this case, I am referring to Co-Citation Tools that will check the similarity between websites backlinks. These tools allow you to identify link prospects based on the fact that they are already linking to two or more of your competitors.  I personally prefer Majestic's Clique Hunter, which will accept up to 10 websites and look for backlinks to at least two of the sites. One of the benefits of this tool is that you can also specify the minimum number of sites that need to match in order for it to count.
Firebug
This Page Speed add-on to the Firebug plugin for Firefox is a Google recommended tool for checking the page loading speed of any page on a website. The main focus should always be to get the site's homepage loading score up to the recommended Google score (although tests should be done on all your top performing pages). The Page Speed plug-in rates the loading time of pages out of 100 and Google recommends that your site scores 80/100 to be in their good books. If you are not in the "green zone", the tool will provide you with valuable recommendations to up your page speed score. It will show you exactly what element on your site is slowing you down. Whether it be that you need to enable compression, leverage browser caching, optimise your images, specify image dimensions for all your images, externalise CSS files etc, you will have a wide array of solutions to implement (some being extremely easy) to push your site into the "green load zone". In an era where page speed is becoming more and more of a determining factor in where sites are ranked in the SERP's, having the Page Speed add-on is a definite must.
Google
One of the best SEO tools ever invented was right under our noses for all these years! Google does not get used as effectively as it could be by many SEO's in the world. There are a huge amount of queries that you could use in Google to give you results that normal users won't usually look for. A basic example is using "inurl:keyword", "intext:keyword" or "intitle:keyword" when searching. Those are just three basic examples of different queries you can use. There are plenty more advanced queries that you could use to get exactly what you are looking for out of Google.