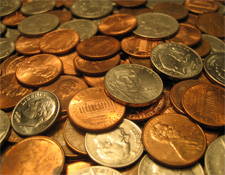 Blogs make up a huge part of the internet world. Tons of people currently run blogs, whether they be for personal or professional reasons. A lot of businesses maintain blogs to keep their current and prospective consumers up to date on current operations within the business. Blogs are so versatile that many people have discovered ways to make money off simply writing and maintaining blogs. It can be a relatively easy process, as long as you can keep track of your activity.
Try any of these tools to help you start making money off your blog.  These are basics for blogging beginners like me!
A) Google Adsense
Selling advertising space on your blog is the biggest and most common way to make money off your blog. With Google's Adsense service, you can have at most three ad units, which display no more than four ads each. The best part about Adsense is that the ad content matches the content of your blog. So if your blog does restaurant reviews, then restaurant-related ads will appear.
Each time a reader clicks on the ad, you will receive a set price per click. Adsense also allows you to track how much you're making through a personalized report page.
B) Control Your Advertising
If you want to act as your own online media buying agency, then check out BlogAds or similar providers. These companies allow you to set your price, and companies will then determine if they want to advertise on your blog, based on the content. Yet you always have the final say in whether you want that ad on your blog. The only requirement is that you give a portion of your earnings back to BlogAds so that they may continue their service.
C) Referrals
Another method of using ads on your blog is through affiliate programs. When you post an advertisement for a company, say Amazon as an example, one of your readers must click the ad then purchase something through that site. In return, you get a portion of what that person paid for the product. Amazon sometimes pays up to ten percent of the amount purchased.
D) Donations
If you don't like littering your blog with ads, there is another shameless way to make money off your blog: signing up with Paypal. Paypal can provide you with a donation button you can place on your blog, so if any readers feel so inclined as to compensate you for their reading enjoyment, they can simply send you money. It's pretty simple.
E) Goodies
For those of us who don't like shamelessly asking for money or distracting readers with advertisements, this is the most creative way to make money off a blog. Creating schwag for readers to purchase is a great way for you to make money and to promote your blog. When readers purchase and use your t-shirts, coffee mugs and other paraphernalia, they are inadvertently promoting your blog to other people. It's the greatest form of in-person promotion.
If you are ready to supplement your income–or actually make income–off your blog, then try out these different methods. You never know, one of these could make you wealthy!
Guest Bio:  This blog was written by Peter Samuels,  a novice blogger who aspires to be become a pro!