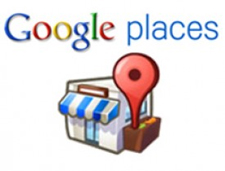 Before I start my today's article, let me give you a brief introduction about Google Places. According to Google, Google Places is to create your free listing.When potential customers search Maps for local information, they'll find your business: your address, hours of operation, even photos of your storefront or products. It's easy, free, and you don't need a website of your own. It helps to grow your business online – especially if your business has a blog.  So, in my today' article I am going to give you few tips on how to optimize Google Places. Lets start:
1. Get Verified : In order to get your Google Places listing on Google SERPs you need to verify your listing. Verification can be done through Phone SMS, Phone Call or through mail. If you select any of the method, Google will send you a pin code, you will have to enter the pin in your Google Places account. I recommend you the Phone SMS method as it is very quick and easy.
2. Build citations : Before you start listing your business on Google Places, I recommend to first build citations. When you put your business address and phone number in your listings Google searches for that address on other websites and if you have build a strong citations on web then Google will put your website on top. The rankings of Google places depends upon trust, to build trust citations are must. You can send out press releases to build strong citations.
3. Do not use your primary keyword in the business name : When you fill in the Google listing page, never use your primary keyword in the business/company name. Have a look

4. Use local phone number : While putting the phone number in Google listings, do not ever use a toll free number, in order to get high rankings in Google, always use a local phone number related to your address.
5. Use the same address and phone number in your website : It is recommend that you use the same address, pin code and phone number in the website contact page or any page in your website that you use in Google Places.
6. Reviews : Reviews are very important factor in Google Places rankings, it is must that you ask your clients to review your business on Google. Ask them to write a detailed review.  If they are already reading your blog, do not be bashful about asking people to share their experiences. The more good ratings you will get, the more good rankings you will get. Always remember that ask your clients to write a detailed review and the review should not be of 1-2 lines. Ask them to use your primary keyword in the review.
7. Images : Google places gives you options to add up to 10 images. There are few things to note before uploading the image:
The first image should be your logo with extension jpeg or png and size 290 x 290 pixels.
The name of the all the images you upload should be your primary and secondary keywords. So, if you 10 images, you can use upto 10 keywords.
Always remember that Google by default chooses the first uploaded image and displays it in Google SERPs, so I recommend to use your logo as first image.
8. Get star ratings on Google SERPs : It requires minimum of 5+ reviews for Google to display star ratings. So, get at least 5 reviews as quickly as possible so that Google shows up the star ratings.
9. Also get reviews from : It is highly recommend that you also get reviews from following 7 websites. Google also checks these websites while rankings Google Places listing.
Yahoo
City Search
Insider Pages
Service Magic
AVVO
Angie"s List
Judy"s Book
10. Categories : While listing your business in Google Places never use keywords in the category. Always choose the best category that suits your business and never use keywords.
11. Get links from related places : Let me explain this point with an example. I give SEO Training in Chandigarh. When you search for this keyword on Google, you will see 4 websites listed that shows up Google star ratings or that have listed their business on Google Places, have a look
The website having 6 reviews i.e CreativeBloggingIdeas is mine and is on the 5th number. In order to get the fifth position what I did is, I opened the review page of the website above me and started getting links from the sites where he was getting.
Now, if you open review page of your competotor, at the bottom you will see a box titled "More about this place". Now, in order to get top rank you must get links from those websites that appears in this box. I also did the same thing and within 2-3 weeks I have gained top 5th positing in Google for the keyword SEO Training in Chandigarh.
So, these were few Google Places Optimization tips you must follow in order to get good rankings.