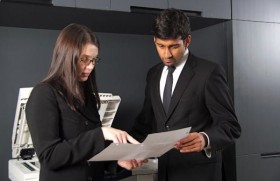 If you build a blog with any reasonable size or status, you're going to draw the attention of companies and their their public relations managers.
Blogging and social media, for the lack of a better word, has become the new wave in PR and are seen as an inexpensive and organic way to reach a very targeted audience very quickly.
However, as a blogger with readers who trust you and value your opinion, not to mention laws that put obligations on how you disclose relationships, you can't afford to get too close to these agents. On the other hand, they can be very helpful and certainly aren't people that you want to turn away or lash out at either.
Dealing with PR agents and other press contacts at companies is a tricky balancing act. One that requires you to extend one hand in friendship while using the other to keep them a safe distance away.
The Pitfall
If you create a blog where you routinely review products, cover news stories or otherwise talk about companies, products and services other than yourself, you're going to find that, once you gain some traction, press agents are going to be taking at least some interest in your writing (even if you don't know it yet).
While this might seem to be a bit odd at first, a company taking an interest in your site, it makes a great deal of sense as, even if your audience is small, it's likely reaching directly to their customer base and can also have a direct impact on how their products and services are viewed in Google.
However, there is good and there is bad that comes with working with PR agents. On the upside, they can inform you of news and announcements before you learn about it from other channels. They can also help you obtain review copies or samples when, otherwise, you would not have been able to buy or borrow one.
But for all of the good PR agents can do for a blog, they are widely seen as a corrupting influence and, in many cases they can be. As the recent Duke Nukem Forever example shows, PR agents sometimes attempt to use their position to punish sites and publications that print negative things about them.
This type of behavior, in turn, causes readers to distrust information that comes from PR agents and to especially distrust sites that rely too heavily on them.
In the end, it's something of a catch-22. If you lean too heavily on PR agents, you risk your reputation and at least the appearance of an independent voice. Push them too far away, you'll find yourself last in line for many stories and will miss opportunities both you and your readers would have found useful.
This makes dealing with PR agents an important, if somewhat tricky, part of running your blog. On that front, here's a few tips to help you along.
How to Avoid It
Avoiding this problem is simple in theory but difficult to do in reality. As a blogger, you want and need the access press agents offer but you have to avoid the stigma and the influence that they sometimes bring with them.
With that in mind, here are a few things you should be doing when it comes to PR agents.
Reach Out to Them: If you feel as if you might benefit from getting in touch with a PR agent at a company and they haven't reached out to you, get in touch with them first. Some firms don't actively seek out bloggers to talk to but will add your name to the list if you contact them. Also, this gives you more control over the dialog, which can help later.
Be Polite: Always be polite when dealing with PR agents, even if you aren't interested in the least. Rudeness gains nothing and a company you have no interest in today may be of great importance to you in a year.
Be Aware of Their Agenda: Always keep in mind that PR agents aren't there to help you, but to work for their companies or clients. Your interests are not first in their mind, even though sometimes you can work together to your mutual benefit.
Do Your Own Research/Review/Judging: Though PR agents and other company reps can provide valuable leads, you need to do your own work. Don't trust research provided by a PR firm without independent verification. Likewise, do your own review and make your own judgements. No matter what, never pull content straight from a press release and present it as your own thoughts. If you wish to quote a press release, treat it like any other source.
Focus on Your Readers: Always remember who you are writing for your readers. Don't get caught up in the relationship with the PR agent so much so that you ignore your readers. That rarely curries any strong favors and can sink your site quickly.
All in all, it's pretty simple stuff to do but it's often difficult in the moment. After all, it's easy to talk about these things when you're writing for a blog, but it's much harder when you're not on the phone with someone offering to give you a big scoop.
That's why you always have to remember these things and never, ever lose sight of them.
Bottom Line
If you are aware of the risks and rewards of dealing heavily with PR agents, you will most likely be fine. Though it's easy to get carried away, especially considering how charming many PR agents can be, you have to give yourself some distance and maintain your freedom to speak your mind at all times.
Sadly, this may mean making a few sacrifices in terms of getting stories, but the sacrifices you make there would be eclipsed by what you surrender by not keeping your distance.
It's simply the smart thing to do, especially if you're thinking of the long term of your site.