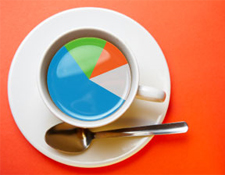 As a blog owner it's very important to know who your visitors are, what they like, what they don't like and what they're looking for. It's even more important to have what they're looking for on your site so that you can keep them there as long as possible. This is why a good analytics tracking tool is so important for your blog. You need to be able to see and keep up with what's happening on your website. The information that you get from your analytics tool of choice is invaluable and can really help you take your blog to the next level, it indeed helped us at 123neonsigns to boost our blog readership.
Many blog owners rely solely on Google Analytics for tracking traffic, referrals, keywords, etc, but Google Analytics is far from the best tool out there; when it comes to the important statistics you need to keep up with, it doesn't even scratch the surface. So here are 5 analytics tools that are sure to aid in your success and give you what you need as a blog owner.
Crazy Egg
If you prefer to visualize your website statistics instead of reading boring numbers, Crazy Egg will suit your needs. It offers 4 different types of views: overlay, list, heatmap and confetti. Each is great for letting you see just where people are clicking on your website and how many clicks you're getting in each area. With hourly reporting and notifications via RSS or email, you can view pertinent information like referrers (where your traffic is coming from), search terms (what people are searching for to get to your site), what browser your visitors are using, what time of day they're visiting, what country they're from and much more. Your data can also be shared with others via email or exported as a spreadsheet or PDF. Choose one of their 4 plans to get started; prices range from $9/month to $99/month.

Reinvigorate
With Reinvigorate you get real-time tracking via the auto-updating dashboard, so that you can see everything as it happens. Their snoop features dings you right on your computer desktop whenever you have a new visitor, sale, sign up and more. They offer heatmaps as well as detailed reports and granular graphs which can be customized. You can also get a breakdown of your statistics by the hour, day or month. Other great features includes referral tracking, visitor regions and timezones, page-level statistics and a globally distributed tracking code so that your site will load much faster. You can get started with a 14-day free trial or jump right into one of their 3 plans ranging from $10/month to $100/month.
ChartBeat
You'll be impressed with ChartBeat's dashboard adorned with gages, charts and a map – all of which update in real-time. You can see how many active new and returning visitors are on your site at any given time. You can also see how many visitors are reading, how many are writing and how many are just idle. The top pages section lets you see your most view pages and traffic sources will show you where visitors are coming from. The map of course shows locations and you can even view conversations (powered by Twitter), so that you can see what others are saying about your blog on the Web. Customizable alerts are available via email, SMS or an iPhone app. Pricing starts at $9.95/month and goes to $149.95/month for their 4 plans; you'll also start with a 30-day free trial.

Woopra
Woopra also has a live dashboard, live notifications and an impressive set of features. You can watch visitors live as they're navigating your site and even talk to them via a live chat widget. The visitor engagement area, which is very similar to ChartBeat, lets you see if your visitors are reading, writing or idle. Plus with integrations like Google Insights, you can get in-depth search engine data and see which keywords are bringing in the most traffic as well as find out what keywords you should be using that you aren't. You'll also get referral tracking, location tracking via a live map, system details (operating system, browser, screen resolution) and even the ability to see what ISP your visitors are using. With Woopra, you can go with their free basic account or choose one of their 6 plans ranging from $4.95/month to $179.95/month.

GoingUp
While GoingUp includes many of the basic visitor tracking features as the others on the list, it also offers useful optimization tools to help enhance your website. With the traffic trend analysis you can track and record the activity of your visitors, see where they were referred from, what they're viewing and where they're going once they leave your site. You also get to see keyword referrals, visitor locations, heatmaps and you can monitor inbound links (see who's linking to you). If optimizing your website is important to you, you'll love their Google pankrank and Alexa rank tracking tool as well as the page optimizer and keyword density tool. You can get started with a free account or choose one of their 4 plans; prices range from $19/month to $99/month.
While these are not the only analytics tools out their for your blog, they are some of the best. Whichever service you choose it's important to not only look at the information, but also respond accordingly to help build a better website, increase your traffic and increase your rankings.
Guest Bio: This was a post by Lior Levin who works for an applicant tracking software company from New-York. Lior is a marketing consultant and an expert blogger.