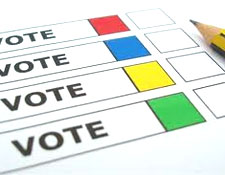 Allowing people to contribute to your blog is a great way for you to establish that you are serious about what they think. There are a lot of different ways that you can allow people to contribute to your blog, and one of the best ways would be by using opinion polls.
A lot of people would never even consider this option because they feel it has no value. I am going to prove that notion wrong in this article by talking about exactly how opinion polls can be used to help increase the readership of your blog, along with the quality of your content.
How Do Opinion Polls Help?
Many times when people create content they create it with the goal of teaching the reader something or to have their blog rank well. When you go to a website you are looking to be either educated or entertained by the content that is there. If the content does that then you like it and you are satisfied by it, but I am sure you have had times where you wished you could tell the website owner directly about some suggestions you might have.
Opinion polls on your blog allows for you to let readers tell YOU on how helpful your website really is along with your content. When you are able to study the information you collect from the polls you create inquiring about the helpfulness of your content you will be able to create content that is better and more enjoyable to read.
Find Out What THEY WANT Using Opinion Polls
Opinion polls can also be used to find out what users are looking for when they visit your site. Even though it might seem evident to you at first, sometimes your readers leave your site earlier then you might like because you are not giving them what they want. If you provided them with more of what they want and less of what they don't want then you will be able to hold them on your blog much longer.
You can setup opinion polls that will ask readers directly what they want from your blog and are they getting it. If you find they are not then you can make the necessary changes.
Find Out A Reader's DISLIKES With The Help Of Opinion Polls
Another way you can increase the traffic to your blog is by not doing things that are going to offend or scare off the people who arrive there. We all want to create content that is going to get attention and be spread to other people. But if you create content that offends people or if you create content that is controversial, then this may hurt your readership.
Before you even think about posting such content on your blog you can put up an opinion poll asking people if they would be interested in reading such content in an indirect fashion. By doing this you will learn what subjects will offend them enough to stop reading before you go through with a piece of content.
It Makes Them Feel A Part Of Your Blog…
Seeing as how these days so many people are on the Internet, they do not want to feel like they are there for nothing. People want to be able to do something besides just read what you have written. Everyone wants to feel included so that they feel like a contributor; by posting an opinion poll on your blog for various topics you will make them feel like a contributor and this is something they will appreciate.
You will need to make sure you change-up the subject of the opinion polls you create for your blog though once you have collected enough information to satisfy whatever you were trying to learn.
Opinion Polls Can Help Them Learn Something
Opinion polls on your blog have more than just the ability to educate you; they have the ability to educate your audience as well. There is a lot they will be able to learn from visiting your blog and reading opinion polls you might have up now and ones you have had up in the past. You will want to find a way to display these polls so that they do not take up too much space on your blog.
A good idea would be for you to have a separate page where you will list the results of polls you have run in the past while at the same time having your current poll displayed on the home page of your blog. You can also decide to put up a poll on a piece of juicy content you just posted for whatever purpose you might want.
Winding Up ↑
Opinion polls are meant for people to contribute in a way where they will be able to make your content and blog better. These are easy to set up and once you do you will be able to learn so much about your blog and what you can do to make it better.
Not only will the readership increase, but you will have an easier time getting your content ranked in the major search engines as a result.
Are you making great use of opinion polls on your blog? Do you think the data gathered by having opinion polls on your blog helps in ANYWAY? Are opinion polls just for news blogs/websites? What you have to say on this…? See the comment form below? YOU ARE SMART! Then why not use it to comment on this post…
Guest Bio: Sushant Risodkar is a young blogger and marketer from India. Download his e-book if you want to make money online like he does…You can also visit his blog at SmartBloggerz where you will get tips on how to be successful online as a blogger and marketer.