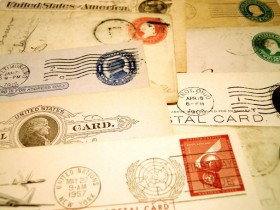 Bloggers, traditionally, love being on the cutting edge when it comes to the tools they use. Whether it's blogging platforms, themes, plugins, social networks, or even mobile devices, if it's more than a few years old, it can feel trite and dated.
But while this desire is understandable, especially considering that much of the Web's momentum is built upon this constant progress, it can cause bloggers (and others) to abandon perfectly functional technologies that are still more than useful.
A good example of this problem is email.
While some bloggers are battling email overload, others are abandoning email altogether, or at least shifting their focus away from it.
This, however, can be a huge mistake. Though email may be decades old, it remains a driving force very much at the heart of the Internet. Though, for you personally, email's functionality might have been replaced by other systems, the Internet as a whole has not moved away from it.
Despite the glamor and appeal of social media and the talk of email killers, email is just as strong as ever and, as such, it deserves to be a prominent focus for you and your site. Ignore or devalue email at your own risk.
Email Isn't Just Alive, It's Number One
Given all the attention Facebook, Google Plus and other means of communication have received, it's easy to write off email as being old hat. After all, nearly every site has buttons for Facebook and Twitter, but few have buttons for sharing via email.
However, email is just as popular as ever. In fact, a recent study found that some 92% of Internet users use email. That number ties it with "searching" for the most common activity one does online. Social networking, despite rapid growth since 2008, is only done by 65% of all users, the least popular of the activities tracked.
The numbers for email are also staying fairly consistent. Since Pew, the authors of the study, started taking their surveys, the percentage has stayed between 89 and 95 percent. This means that there has been little, if any, change in how widespread email usage has been in the last 10 years.
This popularity is a big part of why, according to a study commissioned by the New York Times Customer Insight Group email is still the most popular means of sharing content online, outpacing Facebook, Twitter and other social media services.
But while it might be easy to write off email sharing as a one-to-one medium with little bonus, the truth is that studies routinely find that personal recommendations, such as emails, are the most trusted out there. They are considered far more reliable than anonymous reviews or blanket recommendations.
In short, email is one of the most common online activities, it is the most popular way to share content and, when it is used for sharing, it's the most trusted form of recommendation possible online.
This is a very powerful combination and it makes it easy to see why turning your back on email is a very risky move.
Using Email in Your Blog
So, while it's clear that it's important you don't devalue email as a means of communication, figuring out just how to integrate it into your site can be a tricky matter.
However, there are several easy ways you can put email to work for your site and use it to both encourage your readers to email your content and connect with you via the medium.
Email Sharing: Most major sharing services and plugins have the ability to incorporate email sharing alongside Facebook, Twitter, Google Plus, etc. Users without social media accounts or who simply want to get your work into a specific person's hands will find this to be the easiest way to get the job done.
Email Newsletters: Though email newsletters may seem quaint, they are still very popular among some readers and, since they are directly requested and not lost in a long stream, they are (generally at least) more likely to be read and clicked. If you are willing to spend a little money, a service like MailChimp can help you produce a great email newsletter based on your RSS feed. Barring that, FeedBurner has an email subscription option that you can use.
Email Contact: Make sure to include your email contact information and, if possible, try to include both a form that users can fill out and submit as well as your raw address. Be sure to protect the information from spammers lest your inbox get overloaded with garbage.
All in all, the idea is simple, make sure you and your content are available where your readers are already. Since nearly all of your readers likely have email, it makes sense to have that option available to them.
Because even if your site targets an audience that primarily uses Facebook, Twitter, etc. you need to be prepared for that reporter who may want to interview you for a story or the newcomer that might not have joined your target audience but wants to learn more.
Due to its near-universal nature, email is worth offering and offering broadly. Given that you most likely keep and check an email account regularly, there's little for you to lose in the way of time or energy.
Bottom Line
It's important to remember that the more barriers you put between you and your audience, the less interaction you'll get from them. Whether it's sharing content, getting in touch with you or keeping on top of your site, removing barriers is key to getting the interactions you want.
Since email is so universal, even if it isn't new or trendy, it's a natural tool to make sure your work is as easily available as possible to as wide of an audience as possible.
Facebook, Twitter and now Google Plus may get all of the press, but with approximately 300 billion email messages being passed every day, email still dwarfs them all.
It's foolish to ignore such a large audience and to turn away from so much potential, especially to favor new tools that have only a fraction of the reach.
Author: Jonathan Bailey