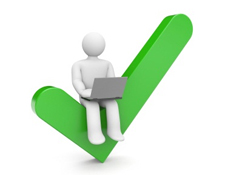 After some careful consideration and meditation, you've decided to join the bandwagon of thousands and launch your blog. You've taken the time to come up with a catchy name, figured out your focus, and even picked a design that feels as fierce as your personality! Congratulations.
Now, there's just one problem confronting you—one that befuddles many bloggers.
How will you get the word out and get folks to read it on the regular?
Especially when you consider that having a bodacious blog that nobody knows about or reads, is the equivalent of throwing a great party where nobody shows up.
Though there are as many approaches to promoting a blog as there are individual bloggers, here are a few tried and true methods that will yield successful results for today's blogger.
1. Guest Blogging—Guest blogging is simply posting an article or "post" on another blogger's site for the purpose of sharing and enhancing their current content. Ideally, it should be a site that is well established, enjoys a good reputation with readers, and deals with topics that you are equipped to speak on. Guest blogging provides exposure by introducing you, your work, and your blog to new audiences and creating "link love". To find out which blogs accept guest posts, you can do a simple Google search, or explore the sites that you currently read, subscribe to, and enjoy.
2. Social Media—Social media is a great way to "make friends and influence people", create awareness for a cause, showcase your work, and even find creative jobs. Some of the most popular forums are Facebook, Twitter, and Linkedin. Each has a different strength and purpose, and some bloggers actually combine them for optimal opportunities. This is a great space for a freelance blogger to explore.
3. Signature Lines—Though it varies from person to person, the average blogger probably sends about a hundred emails a month. If he sends those messages using Yahoo, there's a feature that allows a few lines to be added at the bottom of each message, called the signature line. It serves like an electronic business card that can promote your blog and your services. Simply select "options" from your email messages page, then click on "mail options", then "signature." Then you're ready, voila!
4. Business Cards—There's no doubt about it, social media and the Internet have changed the way that people promote and market today. But, don't overlook the old ways of getting the word out about your business or recreational blog. Business cards are an inexpensive and effective way to reach out to others and connect. Every card should reflect your email address along with your blog URL as part of your contact information.
5. Blog Commenting—Another way to get more eyes on your blog is to stop by other blogs of interest and leave an engaging, funny or interesting comment. Often this can lead to blog readers stopping by and subsequently becoming a fan or follower. This as a way to see what's happening at your spot, know more about you, or how you weigh in on world issues.
These are a few savvy ways to get the attention you desire and deserve for you and your blog.