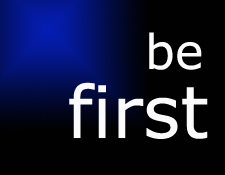 When I worked for a major cable news network, we were always several steps behind the competition. This was not because of laziness or stupidity — it was by design.
Upper management believed in allowed others to do things first, and then react based on results/viewer opinion. This gave the network the opportunity to be BEST, not necessarily first. And the tactic has been very successful for them. But there's one thing that sets them apart from you…they are a big brand name.
As a blogger, you do not have that luxury.
Yes, you should always strive to get things right out of the gate. However, as a blogger, I believe it's often better to be first. The pros far outweigh the cons.  And you can always apologize later.
Getting out of the gate early gives bloggers several advantages over their blogging competition. Here is why being an early adopter is a wise move.
– Early adopters of new technologies and services will be recognized for having great "instincts" if the item catches on. This can put you in a strong position to dominate a niche. For example, the people who were tweeting before it was cool, gathering LinkedIn connections before it was commonplace, and shooting Web video before it blew up, all have a good shot of appearing as if they are "experts." This adds to your "street cred."
– If you receive an email about a service that is just launching, it is the perfect time to reach out and get more information. You will never have the time to support every product/service sent your way, but startups give you an amazing opportunity to network and support tomorrow's all-stars. And trust me: these people will remember who was there for them from the start, and that in itself can be a tremendous asset.
– When a new Web service launches, the first thing I do is register for it. Even if I end up never using the service, it is important to secure your username. This helps keep your brand consistent and can help your search engine rankings. The last thing you want to do is get blocked from your own name if a service goes mainstream.
– Being an early adopter also helps show your readers that you are on top of your game and someone who is worth reading on a daily basis. Think about your own reading habits. Which blogs do you tend to visit often? Likely the ones that you know will give you accurate information first. If you have news or information, do not wait to share it. Doing so can result in a loss of traffic.
– When you report on something first, other bloggers tend to cite you as a source, thus growing your number of inbound links.
How important do you think it is to be first as a blogger? Share your thoughts in the comments section below.
P.S. – It also pays to be the first person to leave a comment on a blog post, as you are more likely to get your thoughts read and your link clicked!
Author Bio: Andrew G. Rosen is the founder and editor of Jobacle.com, a career advice blog.  Follow him on Twitter (@jobacle) or connect on LinkedIn. He also likes to take pictures of lonely chairs.
After working for FOX News and MTV Networks, Andrew G. Rosen founded Jobacle.com, a career advice and employment news blog. He is also the author of The Exit Guide: How to Leave a Job the Right Way.