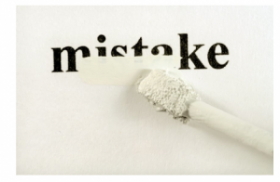 One of my biggest pet peeves when reading really good material is to read that content on a website that gives me a headache to navigate or view.
While there are many website design mistakes a blogger can makes I have compiled a list of 5 mistakes that can kill a blog before it even gets started.
1. Strange Fonts For Content Sections
While using a unique font to create your websites logo or perhaps even sidebar titles might give your blog a fresh feel that's where unique fonts should end.  When it comes to fonts bloggers should incorporate georgia, times new roman, times or serif fonts into their content. If you view HuffingtonPost, New York Times and various other content based sites you will quickly realize that they use those standard fonts because they are easily recognizable and therefore easy to read. If you choose to use a custom font for your content I suggest polling your friends and family members to see if they find the custom font easy to read.
2. Creating A Compressed Content Area
First time web designers often make the mistake of cramming their content into a small area on their blog. For example a 250px side left sidebar followed by a 400px content  and then another 250px sidebar on the right, under that structure your content controls less than 50% of your websites realty. Remember that content is king and if you push out the king for a bunch of ads you're likely to push out readers in the process.
3. Placing A Sidebar On The Left Side Of Your Website
Think about when you read a book, you read from left to right which means placing a sidebar on the left side of your page immediately draws a readers attention away from your content. When a visitor enters your website you want your awesome content to capture their attention immediately, this is why I suggest placing your content "above-the-fold" (top 500px of your page) and to the very left of your website.
4. Installing Videos and Audio Files That Play Automatically
I want to scream when I enter a site and videos begin to play automatically. First, it's inconsiderate to the reader who may not be interested or able to watch videos (for example at work) and it's annoying when I've begun to read an article and the "flow" in the article is disrupted by a loud video when my computer speakers are turned up. Video is a great way to increase "time-on-site" numbers but only if you don't scare your users away by launching them before they have a chance to absorb the written content found on your pages. In cases of java based videos you might also be met by iPad and other mobile device users who can't view your videos creating an entirely new mess for site viewers.
5. Failing To Brand Your Site
Website branding can be as simple as using the same colors throughout your site that you used for your logo and it can be far more complex. When designing a blog there are several factors I like to keep in mind, first I use consistent colors on the website to give my regular readers a sense of continuity. Second, I like to space out all sections of my site evenly, for example If I use 5px padding on my sidebar widgets I also use 5px padding to space out my content from the sidebar. I find that by creating a site that looks consistent in color and spacing users feel like the site is more "put together." If you have the ability it's also not a bad idea to have personalized sharing buttons created for Facebook, Twitter and other sites you use, this shows users that sharing your content is part of your website.
What website design mistakes do you commonly found when reading blogs?